Lord Sales Lectures on Pure Economic Loss in the Law of Tort
Lord Sales Lectures on Pure Economic Loss in the Law of Tort
October 26, 2022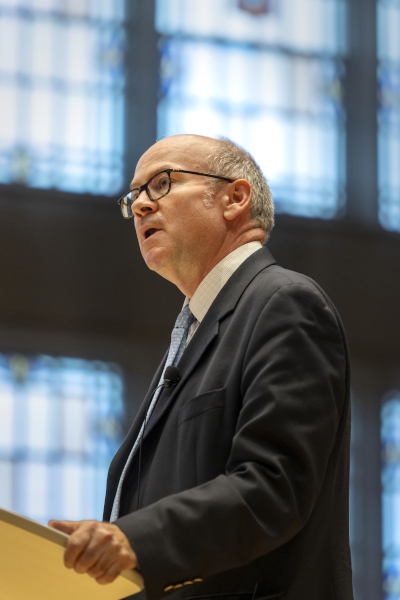 On September 26, 2022, the Right Honourable Lord Sales of the Supreme Court of the United Kingdom delivered the first Tort Law Research Group Public Lecture of the 2022/2023 academic year to an audience of students, faculty, and members of the bar and bench. It was a tremendous honour to welcome Lord Sales to the Faculty of Law. His visit marks only the second time that a senior member of the English judiciary has lectured at the law school, the other being the visit of the celebrated Lord Denning in 1987.
Lord Sales was called to the Bar of England and Wales at Lincoln's Inn in 1985. He became a Queen's Counsel in 2006 and was appointed as a Lord Justice of Appeal in 2014. He became a Justice of the Supreme Court in January 2019. He has also published extensively in leading domestic and international journals, including the Law Quarterly Review, American Journal of Jurisprudence, Cambridge Law Journal, and Australian Law Review.
Lord Sales' talk, "Pure Economic Loss in the Law of Tort: The History and Theory of Assumption of Responsibility," offered a historically grounded and conceptually coherent picture of the law of assumption of responsibility in England. Lord Sales argued that, while assumption of responsibility cannot explain every instance in which pure economic loss is awarded for the tort of negligence, there is a core category of cases for which assumption of responsibility is the unifying principle. Assumption of responsibility comes into play in cases in which the defendant assumes responsibility vis-à-vis the plaintiff to do something with care, then fails to take care, in circumstances in which the defendant has the opportunity to bargain over the terms by which responsibility was accepted. If we understand assumption of responsibility in this light and in its historical context, it becomes a useful concept to determine questions of recovery for pure economic loss. The full text of Lord Sales' talk can be found here.
Lord Sales not only provides a clear and consistent perspective from which to understand the law of assumption of responsibility in England, but also issues an invitation to his Canadian audience to apply his insights to our interpretation of the Supreme Court of Canada's 2017 and 2020 decisions in Deloitte & Touche v Livent, 2017 SCC 63 and 1688782 Inc v Maple Leaf Foods, 2020 SCC 35.
The TLRG's Public Lectures for the 2022-23 academic year are generously sponsored by Shillington McCall LLP.