The Canadian Journal of Law & Jurisprudence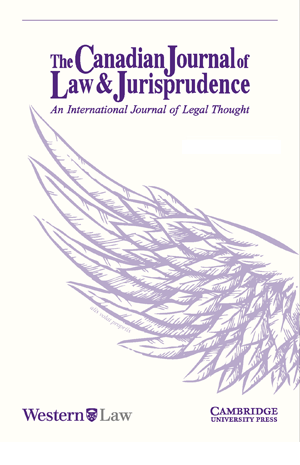 Editors: Margaret Martin and Zoë Sinel
The Canadian Journal of Law & Jurisprudence serves as a forum for special and general jurisprudence and legal philosophy. It publishes articles that address the nature of law, that engage in philosophical analysis or criticism of legal doctrine, that examine the form and nature of legal or judicial reasoning, that investigate issues concerning the ethical aspects of legal practice, and that study (from a philosophical perspective) concrete legal issues facing contemporary society. The journal does not use case notes, nor does it publish articles focusing on issues particular to the laws of a single nation.
The Canadian Journal of Law & Jurisprudence is published biannually in February and August (and as of 2015 in partnership with Cambridge University Press). Each issue typically contains eight to ten pieces; the target for each issue is 250 pages. Although the Journal is pleased to publish essays addressing highly general and abstract issues of legal and political thought, preference is often given to those essays that are directed to somewhat more concrete legal matters and do so in a philosophical way. We have no set length limitations, though articles exceeding 14,000 words (about 25 pages in the Journal) must be justified by remarkable quality.
The Journal will also often publish Critical Notices and Book Reviews; the former are substantial, titled articles about recent books whereas the latter are briefer discussions (rarely exceeding four pages in the Journal, 2000 words), also of recent books. If you would like to write a Notice or Review please contact the editor and express your interest. The Journal does not do Case Notes or accept papers undertaking to analyze statutes enacted in specific domestic legal orders.
For information about Manuscript Submissions, Journal Subscriptions, and Article Permissions please visit https://www.cambridge.org/core/journals/canadian-journal-of-law-and-jurisprudence.
25-Year Cumulative Index
In 2012 The Canadian Journal of Law & Jurisprudence celebrated its 25th year. To mark the occasion we published a Cumulative Index to volumes 1 through 25.
The Index is available in print only and the price is a modest $18.00 CDN plus postage.
To order a copy please send your request to cjlj@uwo.ca.