Pro Bono Students Canada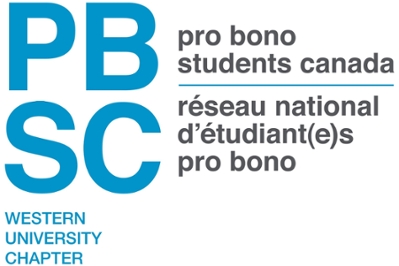 Pro Bono Students Canada is a national program that was launched at the University of Western Ontario, Faculty of Law in the 1998/1999 academic year. The function of the program is to match law student volunteers with community agencies with a need for legal services but with insufficient resources to compensate legal counsel. Agencies typically involved in Pro Bono Students Canada include public interest and non-profit organizations, tribunals, legal clinics and lawyers working pro bono on a particular case. Law student volunteers complete legal research or other law-related projects for member organizations over the course of the academic year under the supervision of a lawyer mentor.
Pro Bono Students Canada originated in Toronto in 1996 and continues to be headquartered there. For information on the national office or to get up to date information on the program in other universities, see the Pro Bono Students Canada national website.
As of May 2014, more than 120 organizations have been involved in PBSC at Western with law students working together to complete pro bono projects for organizations in London and the surrounding community.
What are the Goals of Pro Bono Students Canada?
To encourage students to volunteer in their communities
To instill a pro bono ethic among law students
To assist law students in assessing viable career options in public interest law
To give law students practical legal experience
To provide underrepresented and disadvantaged communities with pro bono legal services
To give public interest organizations and agencies access to highly skilled and committed volunteers