Sport Solution Clinic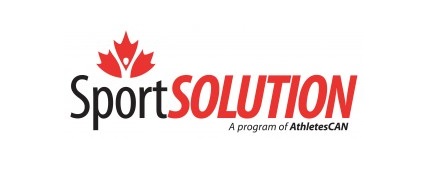 The Sport Solution Clinic is a program of AthletesCAN, the association of Canada's National Team and Olympic Athletes, in conjunction with Western Law School.
AthletesCAN is the only fully independent and most inclusive athlete organization in the country and the first organization of its kind in the world.  As the collective voice of Canadian national team athletes, AthletesCAN ensures an athlete centered sport system by developing athlete leaders who influence sport policy and, as role models, inspire a strong sport culture.
Sport Solution is the only program of its kind in North America and is available to all members of AthletesCAN. To keep up-to-date with all things Sport Solution, please follow us @sportsolutionclinic on Instagram.
Our Mission
Sport Solution is committed to supporting an athlete-centred sport system and strives to achieve this objective by counselling and advocating on behalf of Canada's high performance athletes so their voices are properly represented when resolving the sport related issues that affect them.
The Clinic
Sport Solution offers Western Law students the opportunity to assist Canadian athletes in preventing and resolving sport-related legal issues. Each year 8 first-year law students join the Clinic as caseworkers, whose responsibilities range from legal research to drafting of athlete agreements. 4 upper-year students provide mentor support as case managers, facilitating the relationship between athletes and caseworkers. 5 upper-year Program Managers oversee the Clinic as a whole, interacting with athletes and National Sport Organizations (NSOs) while directing the day-to-day operation of the Clinic in a leadership role. Program Managers are hired following their first year and hold the position until graduation, but are able to seek summer employment away from the Clinic following second year.
Supervising Lawyer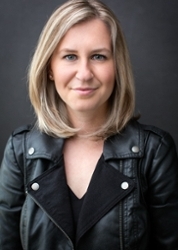 Amanda Fowler

Amanda Fowler is the Supervising Lawyer of the Sport Solution Clinic at Western's Faculty of Law. Amanda started her sports law career when she represented a college baseball player who was drafted to a major league team. Shortly after, she began practicing sports law by representing Olympic, high-performance and amateur athletes in various sport disputes, including team non-selections, improper carding nominations, human rights and doping infractions. Amanda has successfully represented Canadian and international athletes at the Sport Dispute Resolution Centre of Canada and the Court of Arbitration for Sport. One of her most memorable cases was being involved with the Caster Semenya appeal. She continues to advise professional athletes, sport organization and teams. In 2017, Amanda was a pro bono lawyer for the Invictus Games in Toronto.
Program Managers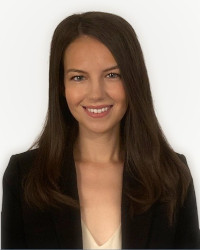 Brittany Bates
Brittany is a third-year law student at Western. She earned her Honours Bachelor of Arts degree in Political Science and Labour Studies from McMaster University, and her Master of Industrial Relations degree from Queen's University. In addition to acting as a Program Manager for the Clinic, Brittany is the Co-President of the Labour and Employment Law Society, and Co-Chair of the Community Outreach Committee. Prior to law school, Brittany worked as a Research Associate with SEIU Healthcare, where she gained valuable experience conducting qualitative and quantitative research on comparative terms and conditions of employment, the economy, and corporate structures of employers, and creating briefs for collective bargaining, mediation and interest arbitration.
Brittany was a competitive dancer for 15 years, competing across North America. During her time at Queen's University, she had the rewarding opportunity to use her experience to teach and support beginner dancers ages four to adult at a local dance studio. She remains active through competitive running and walking events.
While in her position of Program Manager, Brittany is committed to upholding the Clinic's excellent standard, and supporting Canadian athletes. She is particularly interested in ensuring that athletes have a healthy and safe environment to train and perform.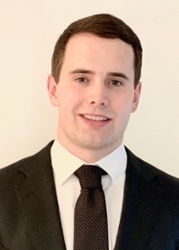 Greg Cherniak
Greg is a third-year law student at Western University. Prior to attending law school, he received his Bachelor of Arts degree from Western, with an Honours Specialization in History. During Greg's first year of law school he acted as a case worker with the Sport Solution Clinic.
A former varsity athlete, Greg played three seasons of football at the University of Ottawa and ran two seasons of track at Western. With his broad range of athletic experience, Greg values his understanding of the unique challenges faced by athletes in both team and individual settings. Beyond his time as an athlete, Greg remains committed to sport through his work with Special Olympics Ontario, where he is a volunteer coach for the London Gliders Swimming Program.
Greg is excited to continue his role as a Program Manager with the Sport Solution Clinic. The clinic is an important resource for Canadian athletes, and Greg is eager to combine his experience in athletics with his legal studies to maintain the clinic's high level of service.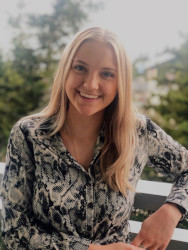 Hannah Dobie

Hannah is a second-year law student at Western University. She received a Bachelor of Arts degree at Queen's University, with an Honours Specialization in Global Development. During Hannah's first year of law school, she volunteered as a case worker with the Sport Solution Clinic. Hannah also works for a tech company on the customer support team, where she has gained valuable and transferable skills for serving client's interests and communicating with sport organizations.
Hannah is a former USPORTS varsity athlete with the Queen's women's soccer team. In her third season, Hannah experienced a season-ending knee injury which inspired her advocacy for athletes' access to resources and a safe sport environment.
Hannah is looking forward to taking on an expanded role within the Sport Solution clinic as a Program Manager. She is passionate about the unique value the clinic's athlete-centered approach provides for conflict resolution. She is looking forward to advocating on behalf of athletes, while empowering them to become advocates within their own National Sport Organizations.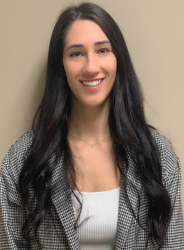 Rheanna Geisel

Rheanna is a second-year law student at Western University. She received a Bachelor of Arts degree at Lakehead University, with Honours Specialization in Psychology and Philosophy. During Rheanna's first year of law school she volunteered as a case worker with the Sport Solution Clinic.
Rheanna is a former USPORTS varsity athlete where she competed for the Lakehead women's volleyball team for five seasons. She has also spent time coaching and mentoring various age groups for the Superior North Volleyball Club. Outside of sport, Rheanna has sat on numerous committees, including the Varsity Council and Senate Academic Committee at Lakehead University, where she acted as a voice on behalf of the student and student-athlete population in seeking improvements in areas such as treatment of athletes, access to support services and course accessibility and diversity.
Rheanna is excited to take on a new role as a Program Manager at the Sport Solution Clinic. The opportunity to combine her passion for advocacy and sport with her legal education will allow her to support and empower Canadian athletes. Rheanna is committed to preserving the Clinic's standard of excellence in serving and supporting Canadian athletes.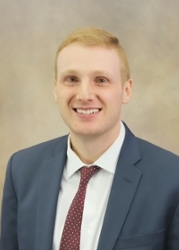 Tyler Matthews

Tyler is a second-year law student at Western. He earned a Bachelor of Sport Management degree with First-Class Standing from Brock University. Tyler volunteered as a case worker for the Sport Solution Clinic throughout his first year of law school.
Prior to law school, Tyler gained experience in the sport industry in completing an internship with the Sport Law & Strategy Group, where the highlight for him was acting as a Doping Control Chaperone at the U23 World Wheelchair Basketball Championship. He then went on to gain valuable experience working at the Sport Dispute Resolution Centre of Canada.
Tyler has been active in the sport community for over two decades, having competed for various clubs in baseball, hockey and volleyball. He has remained on this path in law school through participating in both intramural and recreational sports. Tyler is passionate about advocating for athletes and providing them with a voice. He is excited to utilize his skills and experience to help Canadian national athletes continue to succeed through his work with Sport Solution.
Services
Sport Solution responds to the needs of athletes on a full range of issues including:
General Inquiries and Concerns
Call Early! Sport Solution provides athletes with the relevant information to answer any sport-related legal question. This can often have a preventative function – if the athlete is given the proper information regarding a seemingly small inquiry at an early stage, this will reduce the likelihood that the situation will evolve into a more serious issue in the future.
National Sport Organization Procedures
National Sport Organizations (NSOs) are the bodies that govern sports in Canada (for example, Volleyball Canada). When procedural issues between athletes and NSOs arise, Sport Solution students research and analyze established policies to provide athletes with a clear understanding of their claim or the tools to resolve the situation.
Mediation and Arbitration
The Sport Dispute Resolution Centre of Canada (SDRCC) is a national alternative dispute mechanism tailored to the fit the needs of the Canadian sport community. If an athlete has an issue that is serious enough to require the services of the SDRCC, Sport Solution students advocate on behalf of athletes throughout the entire process, whether it is through mediation or the more advanced stages of an arbitration.
Appeals
If an NSO renders a decision that an athlete disagrees with, Sport Solution can assist the athlete in appealing the decision (on procedural grounds). Common appeal issues include team selection, funding and doping. Sport Solution students assist athletes at all levels of appeal, from the internal appeal within the NSO to the SDRCC.
Specific Issues We Handle
General Inquiries and Concerns
NSO Procedures
How to Prepare for NSO Appeals and Arbitration at the SDRCC
Athlete Agreements
Corresponding With an NSO
The areas of administrative sport law dealt with at the clinic are:
Team Selection
AAP Funding / Carding
Discipline
Harassment
Other Sports Related Legal Concerns
Sport Solution Publications
AthletesCAN produces a quarterly newsletter called AthletesNOW. Sport Solution provides regular content that reviews common concerns within the sporting community and tips on how to deal with these topics.
Recent Sport Solution publications include:
Hours of Operation
2021 Summer Regular Office Hours: [May 1st - September 3rd]
Monday to Friday 10am-5pm Eastern Standard Time
2021 Fall Semester Regular Office Hours: [September 20th – December 8th]
Monday to Friday 10am-5pm Eastern Standard Time
2022 Winter Semester Regular Office Hours: [January 3rd – April 8th]
Monday to Friday 10am-5pm Eastern Standard Time
2021/22 Sessional Dates Where the Clinic Will Be Closed
November 1st – 5th - Fall Study Break
December 10th – 23rd - Fall Term Examination Period
December 23rd – January 2nd - January Winter Break
February 19th – 27th  - Winter Study Week
April 8th – April 25th - Winter Term Examination Period
Contact Information
Toll Free: 1-888-434-8883
Tel: (519) 661-4163
Fax: (519) 661-2153
Email: sportsolution@athletescan.com
Skype: Sport_Solution_Clinic
Facebook: @AthletesCAN
Instagram: @sportsolutionclinic
Prospective Students: If you have any questions regarding Sport Solution, or how to get involved, do not hesitate to email us.
Athletes: CALL EARLY! Sport Solution can better address your needs before the problem escalates. At the Sport Solution, you, the athlete, control the dispute resolution process - we're here to give you the tools to resolve the problem.
Before making contact, it is recommended to organize any relevant information you may have available into digital files creating a background of your situation. This will allow the program managers to efficiently investigate the issue and provide you with a timely response.
Disclaimer
Sport Solution is a program of AthletesCAN, the association of Canada's national team athletes. The Program Managers, case managers and caseworkers of the Sport Solution program are law students who can provide athletes with legal information and resources on: sport dispute resolution procedures, athlete agreements and contracts, selection and discipline procedures in sport, and related legal and policy issues.
The Sport Solution Program Managers, case managers and caseworkers are not lawyers and they cannot provide legal advice or opinion. AthletesCAN respects an individual's privacy and any personal or confidential information that is provided to the Sport Solution will be used solely to assist the athlete with their issue or concern, and will not be shared with others without the athlete's consent.