Western Wins Fox Intellectual Property Moot Cup and a Trip to the International Oxford IP Moot
Western Wins Fox Intellectual Property Moot Cup and a Trip to the International Oxford IP Moot
February 21, 2012
Ben Reingold and Charlie Pettypiece have won the Fox Intellectual Property Cup for Western in a hard fought final round before Justice Rothstein of the Supreme Court, Chief Judge Randall R. Rader of the Court of Appeals for the Federal Circuit of the United States, Justice Sexton of the Federal Court of Appeal, Justice Cronk of the Ontario Court of Appeal and Justice Hughes of the Federal Court.  This is the second time in the first four years of the Fox IP Moot that Western has won the Cup:  Shane Gonsalves and Adriana Morrison won the Cup for Western in 2009, the 1st year of the Fox.
In addition this year, Charlie Pettypiece has won the Dimock Stratton Award for Mooting excellence, awarded to the 2nd year student with the "highest all around advocacy and mooting skills throughout" this national moot competition, held at the Federal Court in Toronto February 17th and 18th.   In consequence, he and his partner, Ben Reingold, will be representing Canada and Western at the international Oxford Intellectual Property Moot in England in March 2013.
Ben and Charlie were the Appellant team for Western this year.  Shaunak Desai and Trevor Pellerine were impressive in their presentations of the case for the Respondents for Western.  The team was superbly supported throughout by researcher Meghan Taylor.  Proud co-coaches are Mr. Harj Mann, Western Law alumnus and partner in Anissimoff, Mann, and Professor Margaret Ann Wilkinson.
The team is fully supported through the generosity of Ridout & Maybee, directly supporting our Western Law team, and those law firms sponsoring the Fox Moot.  The team also receives a great deal of expert support from the Faculty of Law's former Fox mooters and graduate students working in intellectual property-related areas as well as from intellectual property practitioners.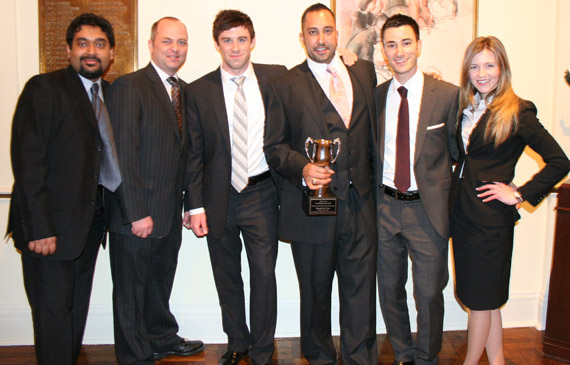 2011-12 Western Law Fox IP Moot team (l-r): Shaunak Desai and Trevor Pellerine (Respondents); Charlie Pettypiece (Appellant, Fox Cup co-winner & Dimock Stratton Award for Mooting Excellence), Harj Mann (co-coach), Ben Reingold (Appellant, Fox Cup co-winner), Meghan Taylor (Researcher), Absent:  Professor Margaret Ann Wilkinson (co-coach)