Margaret Ann Wilkinson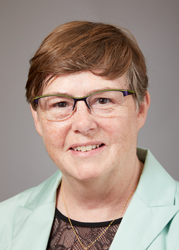 LLB (Toronto) 1978, BA (Toronto) 1983, MLS (Toronto) 1985, PhD (UWO) 1992, called to the Bar of Ontario in 1980.
Professor Wilkinson was awarded the Faculty Scholar Award in 2011 for her achievements in teaching and research. She was awarded the Ontario Library Association Les Fowlie Intellectual Freedom Award 2012, "for her tireless effort in advocating for the principles of balance, user rights and fair dealing on behalf of the Canadian Library community." She is also the Director of the Area of Concentration in Intellectual Property, Information and Technology Law.
Professor Wilkinson practiced law in Toronto for several years prior to her graduate studies (supported, inter alia, by a Social Sciences and Humanities Research Council doctoral fellowship). She first joined the Faculty of Law at Western in 1991. In 1992, she became jointly appointed to the Faculty of Law and the then Graduate School of Library and Information Science (now the Faculty of Information and Media Studies). Professor Wilkinson was fully appointed to the Faculty of Law in 2007. She retains her supervisory status in the Graduate Program in Law, her supervisory status for doctoral students in Library and Information Science, and her graduate supervisory status in Health Information Science.
Professor Wilkinson's thesis on "The Impact of the Ontario Freedom of Information and Protection of Privacy Act, 1987 upon Affected Organizations", won the American Society for Information Science Doctoral Dissertation Award. Professor Wilkinson has spoken and published in the areas of intellectual property, information and media law, and information policy, including health information policy, as well as in the areas of management, professionalism, and professional ethics.
Courses Taught:
Intellectual Property
Advanced Intellectual Property
International Protection of Intellectual Property
Pharmaceutical and Health Regulation
Information Law
Law 9002 Guided Study and Research Methodology
Law 9003 Graduate Colloquium
Harold Fox IP Moot
Ownership and Governance of Information (FiMS)
Biotechnology (Ivey)
Intellectual Property, Licensing and the Regulatory Environment of Health (Ivey)