Finding harmony: Mark and Randy McAuley create balance with a mix of music and law
Finding harmony: Mark and Randy McAuley create balance with a mix of music and law
November 14, 2023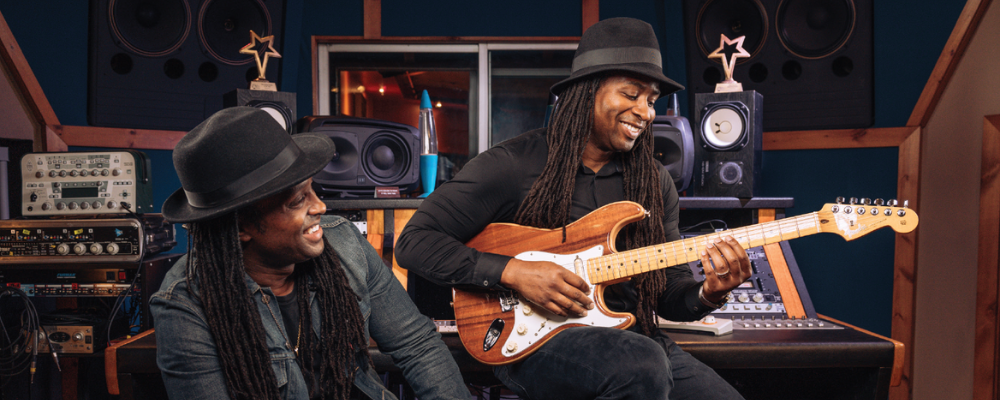 By Kaleigh Rodgers | Photography by Frank Neufeld
For Mark (JD '18) and Randy (JD '15) McAuley, one half of the London, Ontario-based pop, R&B vocal quartet The McAuley Boys, the group's recent induction into the London Music Hall of Fame was a full circle moment.
In the nearly three decades since the group's inception, the band of brothers (from eldest to youngest — Gary, George, Mark and Randy) have each pursued independent professional paths. While Mark and Randy now spend more time comparing notes on their careers in business law, music has remained a unifying force in their family and an integral part of their identities.
"You do something in your life for a long time, and it means a lot to you, and you hitch your identity to it for a long time. Then you move on to different careers and different life choices. All of a sudden, you get reminded that you're a musician, and you're an artist, and that you've created and influenced people," said Randy on the significance of the induction.
The London Music Hall of Fame celebrates the legacy of musicians with local ties who "demonstrate an outstanding career in music and have made a significant impact on the local, national, and/or international community." Looking back at the quartet's accomplishments, it's a befitting honour.
Music was in the blood for Randy, Mark and their brothers. Their parents, Rita and Winston McAuley, were both performing musicians in Grenada, and Winston in New York, prior to settling in London and attending Western. The McAuleys instilled a love of music in their children, encouraging them to learn piano and participate in choirs, orchestras, recitals and festivals. Between piano practice and impromptu singalongs, their boisterous home was always filled with music.
After a few years of performing local gigs and songwriting in the early 1990s, the group took their first step into professional musicianship as The McAuley Boys with a self-released Christmas cassette in 1994. In 1996, they signed their first record deal and released In Another Lifetime featuring the Much Music top 10 hit Down, Down, Down and the hit remake of the Andy Gibb classic, I Just Wanna Be Your Everything.
They were on an upward trajectory, but their parents were clear that music was no excuse to let academics slip, even if it meant driving all night after a gig so Mark could write a first period calculus test. Mark and Randy credit their parents' great expectations, and the support of their whole family, for helping them to reach their dreams. This strong work ethic has remained a constant for the siblings, driving them to achieve success in music and beyond.
"I think a lot of our success is owed to our family. Our parents were very clear on making sure that we continued to have as well rounded an experience growing up as possible," reflected Mark. "There was only one way to do what we were doing and also try to get good marks in school. That was to fill as many hours of the day as you could with things that pushed forward your progress."
At the height of their recording and touring career from 1995 to 2000, the McAuley Boys released three studio albums. In Another Lifetime, was recognized with a 1997 Juno nomination for Best R&B/Soul Recording. The follow up, Wonderful Christmas Time, was the highest selling seasonal album in the region in its year of release. Then came 2000's My Heaven with hit singles My Heaven and By The Way.
Their talent and hard work propelled them to stages worldwide including notable performances in 1997 at the Junos and singing the national anthem at the MLB All-Star Game. During the 2000 Sydney Olympic Games, they were tapped for multiple appearances in Australia. They've even been the opening act for music legends James Brown, Aretha Franklin, Gladys Knight, and the Temptations, among others. 
While rubbing shoulders with the greats, performing live for tens of thousands and on broadcasts to millions were certainly memorable moments for Mark and Randy, that wasn't the best part of their touring days. They most appreciate the time spent with family and the lessons they've translated into their legal careers.
"A lot of times in our careers, the reward is external. If you're dependent on that external reward, this is going to be a tough life. There has to be things out there that just in and of themselves are a reward to you, and no one else has to care about."
- Randy McAuley
"I think one of the most important things…was we got to spend way more time together than other families would have. We got a lot of great time in with our brothers and our dad," said Mark. "It just felt like home, we got to take home all over the place. A lot of fond memories and a lot of peak experiences that you got to share with your closest friends who happen to also be your brothers."
As the brothers established independent lives and families, the demands of life on the road became harder to coordinate, leading them to different careers. Randy and Mark always had a vision for completing a professional degree but explored varying interests along the way, each amassing a list of laudable accomplishments. Ultimately, they were both drawn to pursuing a JD believing it would open doors to opportunities in business and law.
For Mark, the journey toward law involved completing a degree in Psychology and Media, Information and Technoculture at Western (BA '02), followed by another foray into music, this time as solo act, Mac Graham. From 2006 to 2010, he released two albums, 7 Grahams and Midnight, which had tracks in rotation on radio and TV video stations worldwide. He also continued to write and produce music for his brother Gary's production company YEL Entertainment and tried his hand at business ownership prior to returning to Western for his JD, where he was named class valedictorian. He's now an associate in the business law group at Lerners LLP in London. He serves as a member of Western Law's Young Alumni Advisory Council.
Randy studied both Philosophy (BA '08) and Health Sciences at Western (BHSc '12) prior to completing his JD. During his studies, he dove headfirst into another passion, athletics. Randy was an accomplished athlete in both football and track and field. On the track, he was named a seven-time all Canadian. As an all-star running back, his career touchdown tally sits fifth all time in the history of Canadian university football. His athletic excellence led to an invitation to the Toronto Argonauts training camp. When his time there ended, he had a stint as a stockbroker before landing in law. Today, he's a partner at Goodman's LLP in Toronto, also in business law.
While professional musicianship and lawyering may seem worlds apart, it turns out showbiz is ripe with lessons for the practice of law. The brothers agree their background helped them build confidence and learn to navigate relationships with diverse groups of people, which is critical for client service. They credit an interaction with living legend Gladys Knight, who modelled a "no airs and no ego" attitude, for helping them feel at ease in any crowd.
"Because of some of the social circles that we've been able to hang around we learned that no one's too important to talk to. You can be in front of anybody and feel comfortable socializing," said Randy. "That's a big benefit because that doesn't come naturally to a lot of people."
Building strong relationships with clients is now the part of their careers they enjoy most. Though they've had to sacrifice the time they used to spend making music together for late nights in the office, they find satisfaction in developing strategies that help clients to build and grow their ventures.
Work and family life now comes first for Mark and Randy, but music is still a sustaining passion and source of intrinsic joy.
"It is so important to have hobbies because sometimes you get lost in your job. You have to have things that are only for you," said Randy. "A lot of times in our careers, the reward is external. If you're dependent on that external reward, this is going to be a tough life. There has to be things out there that just in and of themselves are a reward to you, and no one else has to care about."
Randy and Mark see their relationship to their music and legal careers as a choose our own adventure rather than an either or proposition. They believe the parts of your identity can and should co-exist in harmony. These days, the music side of the equation tends to look like singalongs at family gatherings, introducing their kids to their favourite music, rare stolen moments for songwriting, and occasional public performances.
In September 2022, the quartet came together again to release the single I Can't Wait to See You Smile. The track, penned by Mark and Randy, is a moving covid-era reflection on the importance of family, friends and connection and the power of kindness to sustain us through challenges.
Returning to the studio encouraged the brothers to see that releasing music doesn't have to be as precious as they once thought. It has inspired them to dream up plans to release a large back catalogue of unreleased songs when the time is right. For now, they're grateful for the recognition that the music they've created as a means of fulfillment continues to resonate with listeners.
"If you're making music to end up in a hall of fame, or to even win awards, I think you're doing it for the wrong reason," said Mark. "We just actually loved creating in those early days, and then we just kept creating. To have what you created have an impact with people years later, it's very hard to put into words."
This article appeared in the 2023 edition of the Western Law Alumni Magazine. Read the full issue here.