Pam Shin (LLB'08) takes on Chair of Inaugural Young Alumni Advisory Council
Pam Shin (LLB'08) takes on Chair of Inaugural Young Alumni Advisory Council
December 20, 2022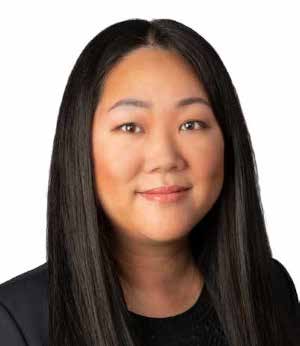 By Pat Morden, Morden Communications
Pamela Shin's parents owned a dry-cleaning shop in London, Ontario when she was growing up. She and her sister spent a lot of time in the shop. Lawyers often came by to drop off or pick up their suits. At the age of five, Shin proudly announced to customers: "I'm going to be a lawyer when I grow up."
It was a bold ambition. When her parents immigrated from South Korea with a few hundred dollars in their pockets, among their first jobs was picking worms to sell as bait. "They bought their first furniture set with the worm money," she says. "They still had it when they sold their house several years ago." For most of her childhood, her father worked the day shift at General Motors and then joined her mother at the dry-cleaning shop in the evening.
Growing up with humble means and experiencing discrimination at school, Shin developed a keen sense of social justice. "I chose law because I wanted to be part of a system that would enable more people to be included," she says. "I wanted to do good, to use what I had to have a greater impact." As a high school student, she was active in anti-poverty activities such as the World Vision 30-Hour Famine.
Charity law seemed like the natural choice. She articled at a well-known firm that specializes in charity and non-profit law. After exploring litigation and labour and employment law, she left private practice to work in-house for World Vision, taking a significant pay cut. Six years later, she joined the Mastercard Foundation as its first in-house counsel. Her work involved extensive travel throughout the African continent to do field visits. "Seeing the work firsthand and meeting with people who were part of the transformation in their own communities really kept me going, and still does." Since February 2022, she has been a partner with the tax group at Dentons, providing her with a platform to work with charities and non-profits at an international level.
People who work in the charity sector focus on mission and expect their service providers to do the same, Shin says. "Many charities are volunteer driven, with maybe a handful of staff. They don't have a lot of resources to hire service providers. Even for the providers, it requires passion for the causes, instead of simply a focus on financial gain." It is, she adds, a sector that cuts across many practice areas from tax and corporate law to commercial, privacy, and intellectual property matters. Usually, a charity lawyer is a generalist who can provide "issue spotting" in a variety of areas. "It has all the legal elements a corporation needs but always with a charitable and non-profit lens."
The rewards are many. "It's definitely the causes that keep me motivated," she says. "I also enjoy the exposure to different organizations, missions and leadership styles, and to different problems that I help to solve."
As a woman of color and the daughter of immigrants, Shin recognizes that her experience entering the profession was different from that of many of her peers. "I'd hear them talking about opportunities they had through relatives and other connections, and I knew that I didn't have that kind of network," she says. "My first job in an office was as a law student. I didn't know how to be in that environment -- I didn't feel like I fit in." While grateful for the mentoring she received from male colleagues throughout her career, she hopes that her daughters will have many female mentor options. "There is something powerful about women supporting other women. When we see more of that, we'll be in a much better place in terms of equity and inclusion."
Shin recently agreed to chair Western Law's new Young Alumni Advisory Council. The decision was an easy one, she says. "I had a fantastic experience through undergrad and law school at Western, so if I can give back now, I'd love to do so." She hopes the Council will help connect the school to its alumni, providing a sounding board and helping smooth the transition from academic training to legal practice. Her goal is to create a strong infrastructure of culture, norms and practices for the new Council, helping it become "a strong voice for as many people as possible."