Class of 2022 encouraged to embrace how they have grown together during the pandemic
Class of 2022 encouraged to embrace how they have grown together during the pandemic
June 27, 2022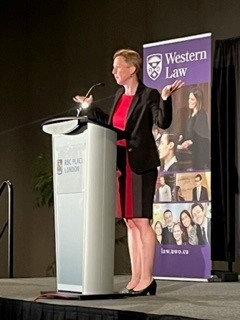 On June 24, Western Law celebrated the Class of 2022 in its first in-person Convocation and Awards Ceremony since the pandemic began. In her address to the class, Dean Erika Chamberlain expressed that the day was particularly special because "Your law school class, more than any other in Western Law's history, has faced disruption at nearly every turn."
Yet, as the class heard from several speakers, the challenges of the pandemic have given rise to immense personal and professional growth and an exceptionally close bond among Western Law students.
The first wave of the pandemic struck in March of the students' first year, leading to an abrupt shift to online learning and exams. The class took its second-year courses remotely, returning for a mostly in-person third year in 2021-22, albeit one marked by mandatory masking, intermittent lockdowns, and virtual extra-curricular activities. In short, they did not experience a single "normal" year of law school.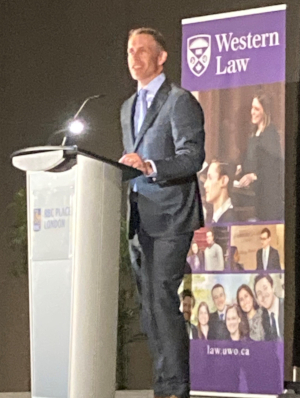 But guest speaker David Shoemaker (Class of 1996), CEO and Secretary General of the Canadian Olympic Committee, encouraged them "to resist the conclusion that this is bad timing." He went on, "If you haven't already, find it in yourselves to see the positive in all of this.  That graduating law school during a pandemic required a level of discipline, innovation and resilience that will serve you through virtually any challenge you may face in the future."
Similarly, Dean Chamberlain remarked on the important societal issues that the class has confronted, including systemic racism, climate change, and persistent challenges to science, journalism, democracy and the rule of law.
She said, "While these were and remain incredibly difficult matters for our society, they have also been fundamental to your growth as future lawyers. They have encouraged you to seek out and understand perspectives other than your own; to confront your own biases; to become more effective researchers and advocates; to value community service; and to use your skills and your privilege to make the world a better place. Wherever life takes you after today, these lessons will stand by you."
More than anything, though, the pandemic taught the students the importance of supporting one another. As Valedictorian Srobona Podder expressed, "it was the challenging moments that bonded us and showed us that no matter what we were going through, we weren't going through it alone."
Podder recalled that, during her first year of law school, she thought that the upper-year students made it all look effortless. "It wasn't until I was in 2L and then finally in 3L," she said, "that I realized that absolutely none of us would dare describe law school as 'effortless.' Instead, everyone was just doing their best to look out for each other. Whether it meant checking in on a friend we knew was overwhelmed, or proactively sending notes to our peers who had to miss class because of illness or family commitments, there was no shortage of empathy or camaraderie in our years here at Western Law."
Dean Chamberlain followed this theme: "You embodied the community spirit that makes Western Law the special place that it is. And as you enter practice, you will appreciate what so many other Western Law graduates have told you - that your classmates will be an important part of your lives for a very long time."
David Shoemaker - Keynote Address
Srobona Podder - Valedictory Address