Influential human rights lawyer partnering with Western Law to conduct Hidden Racial Profiling Project
Influential human rights lawyer partnering with Western Law to conduct Hidden Racial Profiling Project
August 20, 2020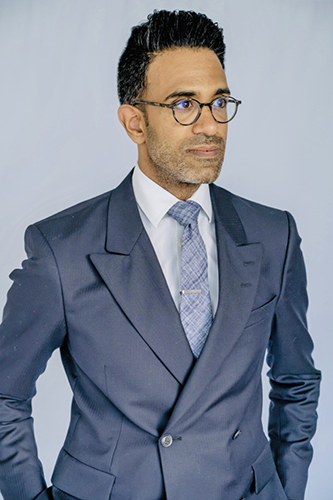 Influential human rights lawyer Sunil Gurmukh has been appointed as an Adjunct Research Professor and will be partnering with Western Law to conduct the Hidden Racial Profiling Project* in the coming academic year.
Gurmukh, a Western Law graduate from 2008 and counsel at the Ontario Human Rights Commission (OHRC), is expanding academic scholarship on police racial profiling. He is counsel for the OHRC in its ongoing inquiry into racial profiling and racial discrimination of Black people by the Toronto Police. He has also litigated cases, delivered public education sessions to Black youth, published articles, written reports and submissions, and, most importantly, learned from lived experience about racial profiling.
With the assistance of student research assistants, Gurmukh will carry out a study that examines major municipal police services in Canada – a process that involves both rigorous case law research and interaction with criminal defence lawyers and accused persons.
"We are in the middle of a national conversation about anti-Black and anti-Indigenous racism in policing and we cannot let it go silent. This project will help uncover hidden racial profiling that must no longer go unnoticed," said Gurmukh. 
Gurmukh was selected by Canadian Lawyer as one of the 25 Most Influential Lawyers in 2019 for his work on racial profiling and discrimination. He taught an intensive course on Racial Profiling at Western Law in 2019-20 and has worked on significant human rights cases at the Human Rights Tribunal of Ontario and all levels of court, including the Supreme Court of Canada.
Western Law Dean Erika Chamberlain is excited that Western Law students will be engaged in this important research. "The Hidden Racial Profiling Project will give our students the opportunity to investigate the prevalence of racial profiling in recent criminal cases, and to perform research with a national impact," she said. "And they will have the opportunity to be mentored by a true leader in the field." 
Recruitment of student researchers will begin this fall.
---
*The views in the forthcoming research and related activities are those of Mr. Gurmukh and do not necessarily reflect those of the Ontario Human Rights Commission.