David Johnston to explore rule of law at Coxford Lecture
David Johnston to explore rule of law at Coxford Lecture
March 21, 2019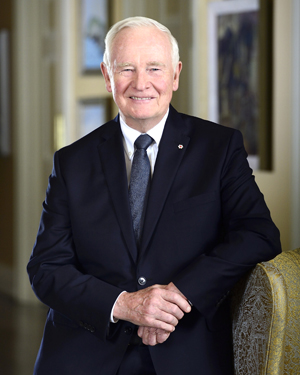 The Right Honourable David Johnston, the 28th Governor General of Canada, will speak on the lawyer's commitment to professionalism and the rule of law at the 10th annual Coxford Lecture.
Johnston, a former Dean at Western Law, will deliver this free, public lecture on Wednesday, March 27 at 12:30 p.m. in Rm. 38 of the Faculty of Law.
"We're thrilled to host David Johnston, who in his distinguished career has done so much to promote the virtues of justice and the rule of law that the Coxford Lecture aims to advance," says Professor Wade Wright, co-director of the Lecture series along with Professor Kate Berger.
"The Coxford Lecture series strives to advance our thinking about the rule of law and push us to consider new possibilities for the future", says Berger. "Mr. Johnston's unique experiences and insights have so much to offer as Canada looks ahead in these uncertain times."
During his time as Governor General, Johnston established the Rideau Hall Foundation, a charity that works closely with the office of the Governor General to mobilize the Canadian spirit -- its ideas, people, and resources -- both domestically and around the world.
Prior to taking on the role of Governor General, Johnston was a professor of law for 45 years, and served as President of the University of Waterloo for two terms and Principal of McGill University for 3 terms.
He holds degrees from Harvard, Cambridge and Queen's and has received 35 honorary degrees or fellowships. He has authored or co-authored 28 books.
The Coxford Lecture is generously funded by Western Law alumnus Stephen R. Coxford, LL.B. '77. Coxford, President of Toronto-based investment company Gresham & St. Andrew Inc., has had a long career in law, business, and investing. 
He served on the University's Board of Governors from 2006 to 2013, the last two years as Chair. In October 2015, he received Western's Ivan Rand Alumni Award in recognition of his significant contributions to both the Faculty of Law and the alumni community.
"Having been one of David Johnston's students at Western Law more than 40 years ago, I'm delighted he has agreed to give this lecture," says Coxford. "He has a lot to say to the legal profession and the broader community."
The Coxford Lecture is celebrating a decade of notable contributions to public law discourse. Over the past ten years, this prestigious lecture series has hosted an impressive line-up of preeminent thinkers, including Debra Satz (Stanford), Paul Horowitz (University of Alabama), Adrienne Davis (Washington University in St. Louis), John Finnis (Oxford), Timothy Endicott (Oxford), Justice Ian Binnie (Supreme Court of Canada), Jeffrey Goldsworthy (Monash University), Jeremy Waldron (NYU/Oxford), and Larry Alexander (San Diego School of Law School). 
These distinguished speakers have addressed significant matters of public interest, such as judicial virtues in constitutional interpretation, reparations for the wrongs associated with slavery, the pathologies of privatizing public goods, and Canada's path to an entrenched Charter of Rights.
The Coxford Lectures are published in the Canadian Journal of Law and Jurisprudence and soon to be published in a tenth anniversary collection by Cambridge University Press.