Nobel laureate explores proper goal of the business corporation
Nobel laureate explores the proper goal of the business corporation
April 11, 2018
Professor Oliver Hart, co-recipient of the 2016 Nobel Prize in Economics, delivered the Annual Business and Law Lecture at Western Law to a standing room only audience on April 3.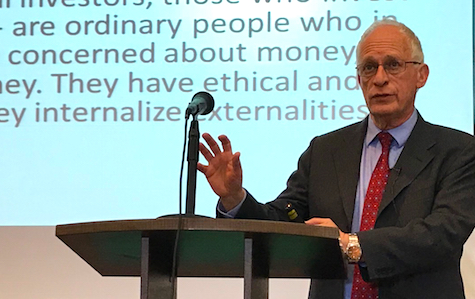 Hart, the Andrew E. Furer Professor of Economics at Harvard University, addressed the question, "Does Serving Shareholders Mean Putting Profit Above All Else?"
In his lecture, Hart summarized a formal model, developed with Luigi Zingales, suggesting that while business corporations should indeed serve shareholder interests, they should not assume that those interests are limited to maximizing wealth.
Hart posits that shareholders have complex, 'prosocial' interests that must be balanced against the desire for financial gain. He argues corporations should determine what those interests are (through shareholder votes on certain key matters) and act in accordance with their shareholders' revealed prosocial preferences.
The Annual Business and Law Lecture was presented as part of Western Law's Torys LLP Corporate and Securities Law Forum. It continues a series originally launched in 2008 as the Beattie Family Business and Law Lecture.
Past speakers in the series include: Nobel Prize-winning economists Robert Shiller, George Akerlof, and Myron Scholes; Delaware Supreme Court Chief Justice Leo E. Strine Jr.; and Lawrence Summers, former U.S. Treasury Secretary and President Emeritus of Harvard University.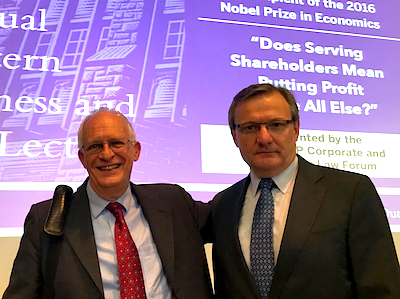 In his introduction, Professor Christopher C. Nicholls, W. Geoff Beattie Chair in Corporate Law and Director of Western Law's business law program (pictured right with Prof. Hart), thanked the Torys firm and Geoff Beattie for making this unparalleled lecture series possible.
"We're very grateful to Torys LLP and to Geoff Beattie for their generous and continuing support of the law school, and particularly of this illustrious lecture series," Nicholls says. "The Annual Business and Law Lecture has become a major event at the law school, and one that attracts national and international attention."
The Torys LLP Corporate and Securities Law Forum was established in 2015 together with the creation of the W. Geoff Beattie Chair in Corporate Law, thanks to generous donations by the Torys LLP firm, Western Law alumni at the firm and Geoff Beattie, LLB '84, Chair of Relay Ventures and former CEO of The Woodbridge Company Limited.