Law forum explores impact of new weapons technology
Law forum explores impact of new weapons technology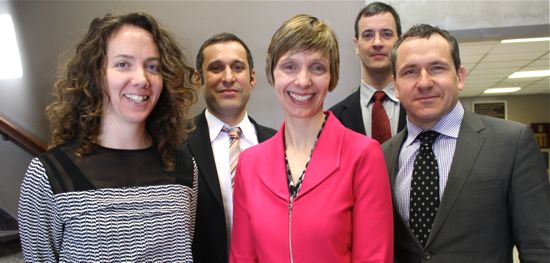 From left to right: Catherine Gribbin, Christopher Waters, Valerie Oosterveld, Andrew Carswell, Alexander Bolt 
Students from the law faculties of Windsor and Western explored the laws of armed conflict – also known as international humanitarian law  – and new technologies at the third Western-Windsor International Humanitarian Law Forum hosted by Western Law on February 28.
The forum "New Weapons, New Laws? International Humanitarian Law and New Technologies" was jointly organized by Western Law professor Valerie Oosterveld and Prof. Chris Waters of the University of Windsor Faculty of Law.
International humanitarian law (IHL) has, from its inception, endeavoured to limit the suffering caused by armed conflict by prohibiting certain means and methods of warfare, including specific types of weapons, explains Oosterveld.
For example both biological and chemical weapons have been prohibited in various treaties, as have anti-personnel landmines and cluster munitions.
Catherine Gribbin, Senior Legal Advisor with the Canadian Red Cross, told the participants how IHL provides the framework in which to examine new types of weapons not already regulated by specific treaties.
Andrew Carswell, of the International Committee of the Red Cross, applied that framework to cyber warfare, drones and autonomous weapons (killer robots).
LCol Alexander Bolt, of the Office of the Judge Advocate General, discussed how new weapons and new technologies are reviewed by militaries to determine whether they are compliant with IHL.
Students also participated in breakout sessions to consider case studies.
"It was an interesting and informative day," said Oosterveld.  "We learned about the development of new types of weapons that could completely change the face of war, with far-reaching consequences. IHL contains important parameters to guide the use of these new weapons, but more expansive law may be needed in the future."