Finding the will to intervene: Romeo Dallaire to deliver Pensa Lecture in Human Rights
Finding the will to intervene: Romeo Dallaire to deliver Pensa Lecture in Human Rights
March 01, 2012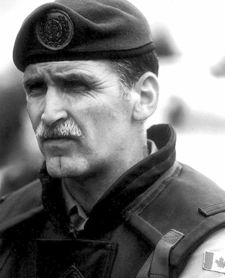 Senator Roméo Dallaire has seen the worst of humanity. Informed by that experience, however, he brings lessons of hope as he delivers the 2012 Claude and Elaine Pensa Lecture in Human Rights at Western University.
His free public lecture, entitled 'The Will to Intervene', will be held at 12:30 p.m. Friday, November 23 in the Faculty of Law, Room 38. All are welcome, but seating is limited.
Dallaire will discuss the need to identify strategic and practical steps to build the political will to prevent mass atrocities.
In 1994, Dallaire commanded the United Nations Assistance Mission for Rwanda (UNAMIR). His book on that experience, Shake Hands with the Devil: The Failure of Humanity in Rwanda, was awarded the Governor General's Literary Award for Non-Fiction in 2004.
He has become a strong advocate for human rights, with particular focus on the prevention of mass atrocities and elimination of the use of child soldiers in armed conflict.
A senior fellow at the Montreal Institute for Genocide and Human Rights Studies, Dallaire is co-director of the institute's Will to Intervene Project.
Since 2006, Harrison Pensa has partnered with Western Law to bring the Claude and Elaine Pensa Lecture in Human Rights to Western and the London community. This annual event provides a reminder that human rights are an important part of our individual status as human beings and our collective status as members of the global community.
This lecture series honours Claude Pensa's longstanding career as well as the commitment he and his late wife, Elaine, shared in the area of human rights.
The inaugural Pensa Lecture was delivered by Michael Ignatieff, former leader of the federal Liberal Party, on 'Speaking Up for Human Rights: The Canadian Challenge'. Other speakers in the series have included: Supreme Court Justice Ian Binnie; Justice Richard Goldstone, former Chief Prosecutor of the International Criminal Tribunals for the former Yugoslavia and Rwanda; Philippe Sands, a professor of international law at University College London; and Chief Phil Fontaine, the former National Chief of the Assembly of First Nations.
Note: This article has been revised to include the rescheduled lecture date.