Professor Wade Wright named 2023-2025 Faculty Scholar
Professor Wade Wright named 2023-2025 Faculty Scholar
May 10, 2023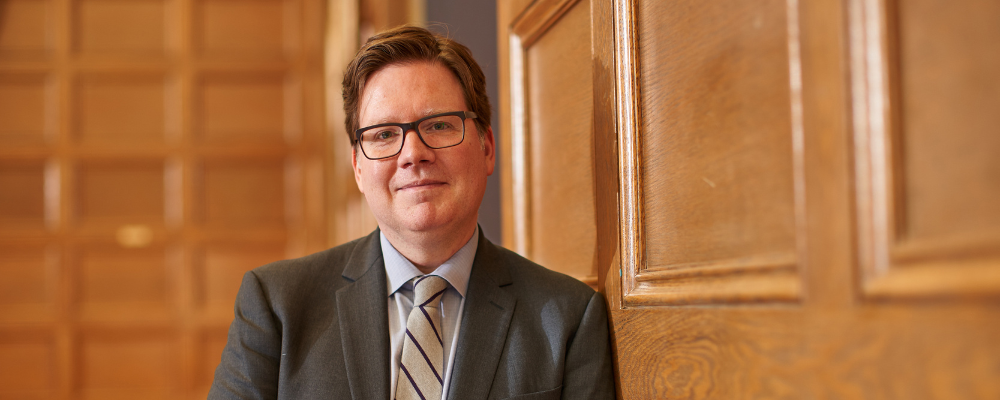 Professor Wade Wright, a leading scholar of Canadian constitutional law, has been named a Western University Faculty Scholar for 2023 to 2025. The Faculty Scholar Award recognizes significant recent scholarly achievements in teaching or research. The recipients have an international presence in their discipline and are considered all-round scholars.
Wright joined the Faculty of Law at Western University in July 2016 and teaches courses in constitutional law and administrative law. His primary areas of research interest are Canadian and comparative constitutional law.
Wright is the co-author of two leading legal treatises – Liability of the Crown and Constitutional Law of Canada. His colleagues and peers highlighted his co-authorship of these important treatises, among other things, in nominating and recommending him for the Faculty Scholar Award. He was invited to assume authorship of the Constitutional Law of Canada treatise in 2020, following the death of eminent professor and founding author Peter Hogg.
"That Professor Wright was selected to take over this monumental work is a testament to his esteem in the field," said Erika Chamberlain, dean and professor at Western Law. "It has also made Professor Wright one of the most influential scholars in the country, as the treatise is the primary authority on constitutional law for law and political science students and professors, constitutional litigators, and particularly, the appellate courts."
Wright's work has been cited regularly by the courts. His work has been cited upwards of 20 times by the Supreme Court of Canada alone in the past decade. Given the role that he has taken on with Constitutional Law of Canada, this trend will undoubtedly continue, as the treatise has been the most frequently cited source by the Supreme Court of Canada for many years.
"Professor Wright's interpretation and analysis of constitutional law will be among the most important in our nation over the coming decades, with the real potential to help shape our democratic institutions," added Chamberlain.
Beyond significant contributions to constitutional law scholarship, Wright has also been recognized for his teaching. In 2021, he won Western Law's Award for Teaching Excellence. As a mentor, Wright enjoys getting students involved with his research projects, including the Constitutional Law of Canada treatise, and he also served as co-director of Western Law's judicial clerkship program from 2016 to 2022, encouraging and supporting students through the application process.
Student nominators for the Award for Teaching Excellence were impressed with his ability to transform his administrative law course to the remote learning format, using a combination of creative synchronous and asynchronous teaching methods. Students also expressed deep appreciation for the empathy he showed during the challenges brought about by the pandemic.
Faculty Scholars hold that title for two years and receive $15,000 each year for scholarly activities, as well as receiving a citation. Previous Western Law recipients include professors Zoë Sinel (2020), Valerie Oosterveld (2017), Jason Neyers (2015), Chris Nicholls (2013), Margaret Ann Wilkinson (2011), Rande Kostal (2008), and Randal Graham (2005).