Incoming Western Law students take pledge of professionalism at Induction Ceremony
Incoming Western Law students take pledge of professionalism at Induction Ceremony
September 06, 2023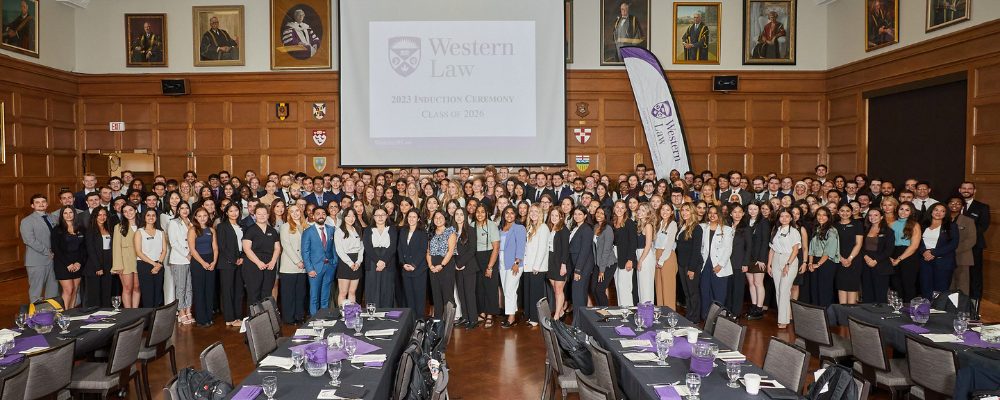 Kicking off a week of orientation programming for the Class of 2026, Western Law welcomed 189 incoming JD students at the Induction Ceremony on September 5, 2023.
The annual ceremony, held at Western's Great Hall, welcomes students to the legal profession and introduces the privileges and duties of being a lawyer. During the ceremony, the incoming students recite and sign our Professionalism Pledge, committing to conduct themselves with professionalism at law school and beyond.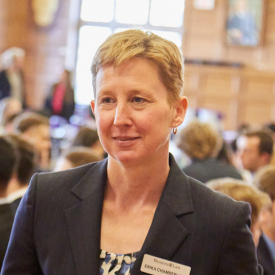 In her remarks, Dean and Professor Erika Chamberlain reflected on her own experiences as a student at Western Law, and the enduring sense of community and collegiality that students will soon experience. She also emphasized the responsibility and privilege of being a lawyer and the fundamental role of the profession in upholding modern democracy.
"Law is at bottom a helping profession and we can each make a difference in our profession's reputation. Speaking more broadly, we live in a world where some of those in power are openly vilifying the press, and in some countries, imprisoning them or worse for doing their work," said Dean Chamberlain.
"They seek to disenfranchise their opponents, commit human rights abuses, and use dishonest means to interfere in elections or other democratic processes. In all of these situations, it will be lawyers who hold these people accountable, who stand up for the oppressed, who defend freedom of expression, and who uphold the Constitution, and the rule of law."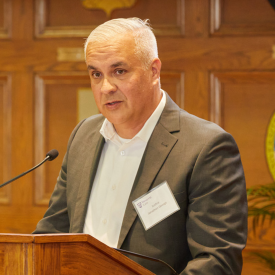 The Honourable Justice Jonathon George (LL.B. '99) of the Court of Appeal for Ontario, provided the keynote address encouraging students to consider the type of professional they aspire to be and the standards they will uphold. Justice George outlined some of the traps and pitfalls lawyers may face throughout their careers at a time when he feels that "professionalism, civility and collegiality are lacking" in the profession.
"You don't know what is to come, what will push your buttons on a given day or in a particular case," said Justice George. "But anticipate these scenarios and commit yourself to no matter what eventuality with integrity, kindness, empathy and humility. Remember that professionalism is, at its essence, a personal characteristic, one that reveals itself in your approach to your work, your studies and in the way you interact with others."
Justice George also outlined the building blocks of professionalism including competence, integrity, civility and collegiality. He emphasized the importance of receiving and providing mentorship and of engaging in public service, volunteerism and continuing education. He closed his remarks with a message for members of equity-deserving communities to reflect on their value.
"It is very important for you to understand how your lived experience will bring great value to this institution and some day soon to the legal profession," said Justice George. "You will doubt this at times, perhaps because of past negative experiences, maybe because of your own insecurities. Sometimes it will be because of the conduct and words of others. But the contribution that you will make to this law school and to the profession will be invaluable."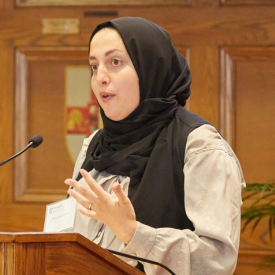 Nusaiba Al-Azem (JD '18), Director of Legal Affairs for the National Council of Canadian Muslims, extended a warm welcome into to "one of the most noble and prestigious professions" on behalf of Western Law's Young Alumni Advisory Council. Al-Azem offered her words of wisdom to new students including advice to remember the words of Maya Angelou, who said that "people will forget what you said, people will forget what you did, but people will never forget how you made them feel." She also shared the importance of getting involved citing a personal example of how supporting a vital research marathon as a student would later intersect with her career.
"Do as much as you can, all the clinics you can, all the research positions you can. Not only does it enhance your school experience, but you'll learn what you're actually passionate about, and pick up invaluable skills," said Al-Azem. "You can never know where your career is going to take you and what might benefit you along the way."
The president of the Student Legal Society, Neha Gulati also provided greetings and advice to new students including the importance of cultivating community, supporting classmates, stepping outside of their comfort zone, and having faith in their capabilities.
Dean Chamberlain concluded the event with words of encouragement for students who may experience feelings of impostor syndrome.
"You belong at Western Law, and you belong in the legal profession," she said.
She encouraged students to connect with peers, faculty and staff for support throughout their journey and to remember they are never alone.
Western Law would like to thank the OBA for generously sponsoring the students' induction ceremony and lunch.