Western Law interns make an impression at the World Bank Group
Western Law interns make an impression at the World Bank Group
October 14, 2022
For Nadia Yehia and David Zhang, this summer will be one they will not soon forget.
As COVID restrictions eased, the Western Law Internship Program (WLIP) was once again able to offer in-person internships for summer 2022. As part of this program, Nadia and David were selected to participate in the Thornton Grout Finnigan LLP – World Bank Group Internship in Bankruptcy and Insolvency Law in Washington DC.
Since 2006, WLIP has been coordinating immersive, substantive summer internships for Western Law students.
Thornton Grout Finnigan LLP (TGF) has been a generous long-time WLIP supporter, selecting one intern annually for an internship with the World Bank Group. This year, the pool of Western Law candidates was so impressive, TGF generously offered to double its funding to support two internships. After a very competitive selection process, Nadia and David were chosen to intern with the Insolvency and Debt Resolution team at the World Bank Group in Washington, D.C.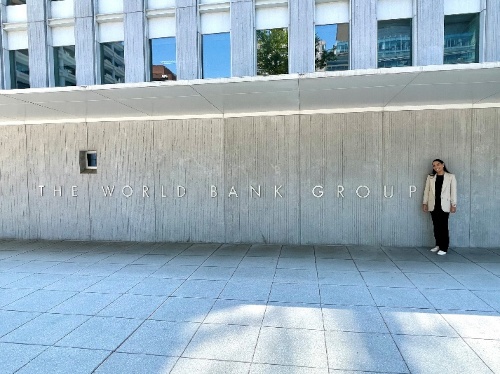 Nadia, pictured right, started working with tax and insolvency matters from her very first day in D.C. Nadia enjoyed the opportunity to participate in a study tour for a delegation from the Ministry of Justice of Egypt. Her ability to speak both French and Arabic made her a valuable addition to the team.
"It truly amazes me how much I have done and learned in such a short period of time, and I strongly believe that no other opportunity would have provided me with such in-depth knowledge in the field of insolvency and restructuring," said Nadia.
Her internship became even more immersive when she travelled with the team on a mission to Bishkek, Kyrgyzstan, where she met with important stakeholders, and created two presentations delivered by the insolvency team at workshops.
David was also kept busy participating in a wide variety of projects during his internship. In less than three months, he completed over 55 distinct deliverables! For David, it was not just about producing excellent work, but the real-world impact that work may influence. "My time as a World Bank intern has been a period of immense personal and professional growth," said David. "Professionally, many of the projects I've been assigned seamlessly built on existing skills I gained from my previous work experiences…Personally, I have learned that what truly gets me up in the morning is not my job title or the brand equity of my employer, but it's the organizational mission that serves as my daily motivation."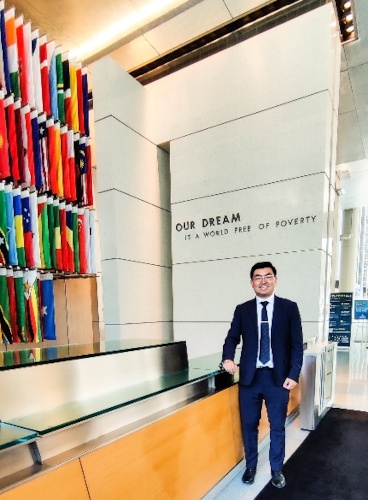 During his internship, David, pictured left, travelled to Vietnam for a two-week mission where his team was assisting Vietnam's Supreme People's Court to amend the 2014 insolvency legislation. He met with various stakeholders and compiled meeting notes to identify shortcomings and recommendations. Relying on his previous work history in Asia, and having visited Vietnam five times previously, he was able to make suggestions to adapt the team's approach to work in an Asian context.
WLIP internships last 10 to 12 weeks and occur between May and August. A stipend of $10 000 - $15 000 is provided to each intern to assist with expenses incurred during the internship. Applications open in the Fall of each year and all first- and second-year Western Law students are encouraged to apply.
The experiential learning WLIP provides does not just improve students' professional skills but allows them to look at the impacts of law beyond classrooms or courtrooms. "Moving forwards, I know my experience at the World Bank will continue to have a profound impact on my career and shape who I will become," said David. "Having improved my legal research, writing, public speaking, and international relations skills are all wonderful outcomes of this internship. Most importantly, however, it's knowing that the time I spent at the World Bank went towards moving the needle on one of society's greatest challenges and will be something I reflect on fondly for years to come."