Lerners LLP Cup Showcases Western Law's Best Advocacy
Lerners LLP Cup Showcases Western Law's Best Advocacy
October 11, 2022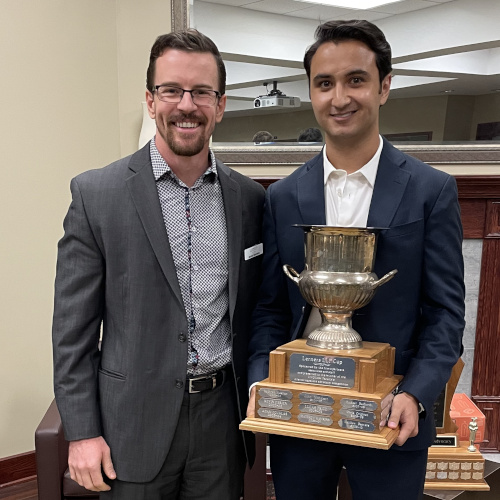 Western Law's premier appellate advocacy competition, the Lerners LLP Cup, took place September 25-October 3. This year's problem was based on Toronto (City) v Ontario (Attorney General), 2021 SCC 34, and focused on freedom of expression in municipal elections and the legal effect of unwritten constitutional principles.
The final rounds were held on Monday, October 3 before Jacob Damstra of Lerners LLP, Dean Erika Chamberlain and Professor Akis Psygkas. All eight finalists demonstrated mastery of the legal principles and the ability to respond to challenging questions. In the end, Konner Fung-Kee-Fung was named Top Oralist and champion of the 2022 Lerners LLP Cup.
Other prize-winners were as follows:
Top Team in the preliminary rounds: Emily Vaillancourt and Pooja Patel
Best Appellant Factum: Giovanni Perri and Zachary Bowles
Best Respondent Factum: Isaac Papsin and Shawn Medeiros 
Congratulations to Rheanna Geisel and Shannon Reid, Co-Chairs of Western Law's Advocacy Committee, for running a well-organized competition. The Advocacy Committee thanks Professor Colin Campbell, Faculty Advisor, as well as all the lawyers, professors, and third-year students who served as judges in the preliminary rounds, and the first-year students who served as preliminary round clerks.