Recent grad secures two court clerkships
Recent grad secures two court clerkships
March 31, 2021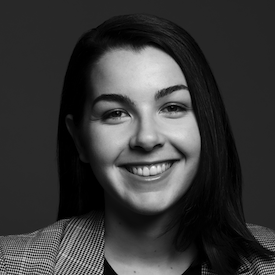 Emma Williams, JD'20, has accomplished the impressive feat of securing two consecutive judicial clerkships. 
Following her current articling year at Lenczner Slaght, Williams will clerk at the Federal Court of Appeal in 2021-2022, and then at the Supreme Court of Canada in the chambers of Justice Abella's successor.
Williams says she is "honoured and grateful" for the opportunity to work as part of the close-knit community of clerks at the courts.
"I'm looking forward to working on novel and pressing legal issues and learning from some of the brightest Canadian legal thinkers," she says. 
Williams, who was awarded the school's gold medal in 2020, credits her studies in public law with Professor Kate Berger for her keen interest in the roles and structure of the institutions of government, including the role of the Supreme Court of Canada.
She's grateful to Professor Berger, as well as professors Andrew Botterell, Valerie Oosterveld, and Thomas Telfer, for their support and guidance throughout law school and through the clerkship application process.
Following her clerkships, Williams plans to pursue a career in litigation and says she's "excited to see what the future holds."
Western Law is also celebrating the success of the following students who have secured clerkships: Matthew Patterson will clerk at the Ontario Court of Appeal; Rebecca Ro and Henry Mah will clerk at the Federal Court; and Greg Cherniak, James Hutchinson and Raffi Dergalstanian will clerk at the Superior Court of Justice. 
"Judicial clerkships provide a unique opportunity for recent graduates to be a part of the law-making process," says Dean Erika Chamberlain, who clerked at the Supreme Court in 2002. "I'm very happy for them, their futures are all very bright."
"I'd like to congratulate all of the successful candidates this year," says Professor Wade Wright, who co-directs Western Law's Clerkship Program with Associate Dean Andrew Botterell, both of whom clerked at the Supreme Court in 2006-2007. "As a former clerk, I know that they all have an exciting, rewarding experience in store for them."