New year, new opportunities for students
New year, new opportunities for students
January 07, 2021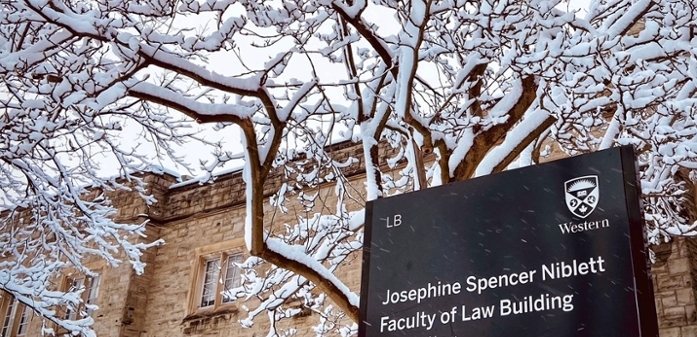 The new year brings new opportunities for law students during Western Law's revamped January Intensive Period.
This year, upper-year students will take two seven-day modules, increasing their exposure to innovative and experiential learning during the period. 
"We believe that intensive courses can inject students with a sense of excitement as they immerse themselves in new areas of law," says Dean Erika Chamberlain. "We're excited to give them even more of these opportunities this year."
New this year is a mandatory second-year course in Indigenous Law taught by Professor Frankie Young and alumnus Jeff Warnock.
This seven-day intensive course provides students with an introduction to Indigenous legal traditions, with a particular focus on Anishinaabe legal traditions.
"The course doesn't focus on Canadian law as applied to legal disputes between Indigenous peoples, governments, or third parties," says Young. "Rather, it's primarily an examination of the values, norms, worldviews, and legal traditions that guide Indigenous Nations."
Young says students will be asked to reflect on the importance of understanding Indigenous law as a part of their legal education and use their analytical skills as they examine legal problems from an Indigenous perspective.
Second-year students will also take a mandatory course in Alternative Dispute Resolution (ADR) led by Professor Michael Coyle. This course involves multiple simulations, giving students the opportunity to practice their skills in negotiation and mediation, and learn about their value in legal practice.
Third-year students elect from a wide-range of intensive courses taught by Western Law faculty and visiting professors. These courses include emerging areas like Food Law, Outer Space Law, Disruptive Technologies and the Law, Gender and Judging, and Cannabis Law and Practice; as well as more practice-focused areas like Accounting for Lawyers, Law and Leadership, and Challenges in Sexual Assault Prosecutions.
Some students are also engaged in short externships with the Ontario Court of Justice Placement Program, while others dedicate the January Intensive Period to external advocacy competitions.
"We hope these changes will bring renewed excitement to the January Intensive Period, while also giving students essential training in Indigenous Law and ADR," Chamberlain says. "We strive to create an engaging environment in which our students can learn about the legal issues and skills that will be important to them when they enter the profession."