A novel journey: Damhnait Monaghan, LLB'92, turns the power of persuasion into a literary career
November 18, 2021

After learning that the opening chapters of her debut novel, New Girl in Little Cove, had been longlisted for the prestigious Caledonia Novel Award, Damhnait Monaghan, LLB'92, spent six days writing and rewriting the rest of the manuscript at break-neck speed.
"I realized that if I didn't make the deadline, I might be throwing away my last chance at publishing a story that wanted to be told," she said. Several months later, Monaghan was vacationing in Niagara on the Lake with the "Law Girls" — a group of kindred spirits who forged a close bond as students at Western Law — when she found out she had succeeded at making the competition's short list. She didn't go on to win the award, but she landed an agent and a book deal with Harper Collins Canada.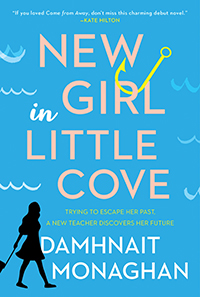 The Ontario native spent a decade living in Newfoundland and Labrador as a young woman, two years of which were spent teaching French in a remote community on the Cape Shore. Later in life, this experience would inspire the fish-out-of-water tale of Rachel O'Brien, the protagonist of New Girl in Little Cove who bumbles her way through her first year of teaching in an unfamiliar culture.

Like Rachel, Monaghan discovered a beloved second home in Newfoundland. She calls her novel a "love letter" to its people, whose characteristic accent and dialect, self-deprecating humour and traditional culture left a lasting impression.

Several years after moving back home to Ontario to be closer to family, Monaghan realized she was ready to move on from teaching. She visited with her sister, a law student at the time, and decided to take the plunge and follow in her sister's footsteps. "It was the right choice to make," she said. "I absolutely adored my years at Western."

As Monaghan celebrates the release of her debut novel, she reflects on the role her Western Law experience played in her unconventional journey from French teacher to lawyer to novelist.

She points to a second-year class with former dean Peter P. Mercer, LLB'76, as the spark that ignited her interest in administrative law. After graduation, she practised labour and employment law for eight years in Toronto and three in London, U.K., where she relocated after marrying an Englishman.

Following a career break to raise her young children, Monaghan chose to pursue a part-time master's degree in creative writing at Winchester University, not far from her home in the U.K. She had demonstrated a talent for writing for as long as she could remember.

"I could always write, but becoming a writer was a longer journey," she reflected. After earning her degree in the early 2010s, she put pen to paper with an early iteration of New Girl in Little Cove and hasn't stopped writing since.
"What I loved most about my work in labour and employment law was the focus on people, and that translated well to writing," said Monaghan. She discovered a knack for untangling people problems through research and advocacy, a pro- cess that lays the groundwork for creative writing.

"Whether you're presenting a case to an arbitrator or writing a brief, success as a lawyer depends on being able to communicate succinctly and persuasively,"she explained."That ability to use your powers of persuasion to craft a story that's credible to the audience is something that has served me well."

While Monaghan credits her legal education with contributing to her literary success, she views her lifelong friendship with the Law Girls as the single most rewarding aspect of her years at Western Law.

"Ever since our first year at Western, we have been a real support system for each other, both personally and professionally," she said.
Though the pandemic prevented Monaghan from launching her novel in person in Canada, she looks forward to a trip to the Caribbean with the Law Girls later this year, and visiting family in Ontario at the first possible opportunity.

In the meantime, she continues to divide her time between publicizing New Girl in Little Cove and making progress on her second novel.
"My first book hasn't even been out for six months yet, so it's all still a bit surreal," she admitted. "My dream came true. How often do we get to say that?"
---
This story first appeared in the 2021 edition of the Western Law Alumni Magazine.