Zoë Sinel named Faculty Scholar
Zoe Sinel named Faculty Scholar
April 21, 2020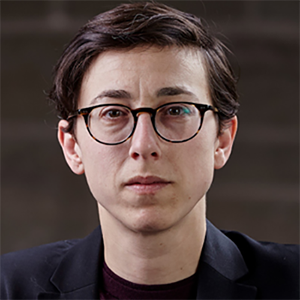 Associate Professor Zoë Sinel has been named Western Law's Faculty Scholar for a two-year period beginning July 1, 2020. The Faculty Scholars Award recognizes recent significant achievements in teaching and research during a critical point in a professor's career.
She will receive $7,000 for each of the two academic years, which will be used for various scholarly activities, including conducting and publishing new research, presenting at conferences, and improving pedagogy.
"Professor Sinel has achieved an international reputation for first-rate scholarship and has made significant contributions to her demanding field," said Dean Erika Chamberlain. "Furthermore, Professor Sinel's scholarship is complemented by her outstanding reputation as a law teacher and her dedicated service to the Faculty of Law and the University as a whole."
Professor Sinel researches and teaches in private law and legal theory, with a particular focus on civil remedies for private wrongdoing. She joined Western Law in 2013 after completing her doctorate in law (SJD) at the University of Toronto, where she held the prestigious Vanier Scholarship. Prior to this, she obtained her JD from the University of Toronto, as well as two master's degrees in law from the University of Oxford: the BCL and the MPhil.
Before her move to London, she was also a Visiting Researcher at Harvard Law School.
She is most interested in the philosophy underlying the common law of torts, contracts, property, and unjust enrichment; a discipline which Dean Chamberlain describes as one "that attracts scholars who thrive on fierce intellectual challenge and debate."
Professor Sinel's research accomplishments in the past year alone are plentiful: They include being awarded a SSHRC Insight Grant (alongside two external professors) in the amount of $130,277 for a project titled "Tort Law in Its Social Context," for which she is a co-investigator. The project aims to fill an important gap in the scholarship and teaching of tort law in Canadian law schools by exploring the ways that the dynamics of civil litigation and adjudication reflect and entrench broader social trends and biases.
She also co-organized, alongside her Western colleagues Dennis Klimchuk (philosophy and law) and Joanna Langille (law), the prominent North American Workshop on Private Law Theory, which was held at Western in October 2019. Along with her co-organizers, she assembled a top-quality field of papers and discussants, and put Western in the top tier of law schools working in private law theory.
But her recent accomplishments don't stop there.
She was a co-editor of a collection of papers, Gerald Fridman and the Law of Obligations: Past, Present and Future, published by LexisNexis and the Supreme Court Law Review. Additionally, she is one of a handful of legal academics currently preparing the fourth edition of Fridman's The Law of Torts in Canada, a leading treatise that is regularly cited by the Supreme Court of Canada. This treatise will be published later in 2020.
Professor Sinel has also had her work published in leading law journals, including the University of Toronto Law Journal, the Oxford Journal of Legal Studies, and the Restitution Law Review.
Praise for Professor Sinel's work has also come from scholars at other law schools in North America. Professor Lionel Smith from McGill University says Professor Sinel's scholarship is "uniformly excellent," while Professor Scott Hershovitz from the University of Michigan writes Professor Sinel is "poised to be one of the most influential private law theorists of her generation."
Established in 2005, the Faculty Scholars Award has been awarded to nearly 200 professors across campus. Previous Western Law recipients include Professors Valerie Oosterveld (2017), Jason Neyers (2015), Chris Nicholls (2013), Margaret Ann Wilkinson (2011), Rande Kostal (2008), and Randal Graham (2005).
Recipients are nominated by the Dean of each Faculty and selected by the Faculty Selection Committee chaired by the Provost. A congratulatory reception for Professor Sinel and the other successful candidates will be held at a later date.