New entrance awards to enhance racial diversity at Western Law
New entrance awards to enhance racial diversity at Western Law
October 05, 2020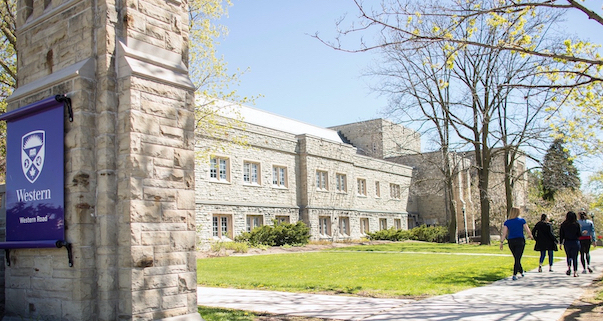 Thanks to generous alumni donations from Sunil Gurmukh LLB'08 and family, and from a number of alumni led by Benjamin Reingold JD'13 and Corum Van Esch JD'13, Western Law will offer a new bursary for Black, Indigenous and racialized students and a new entrance scholarship for Black students starting this fall.
"One of our priorities is to enhance the diversity of our student body and to make Western Law a more welcoming place for everyone," said Western Law Dean Erika Chamberlain. "These new entrance awards are important steps to that end, and we're very grateful for the support and generosity of our alumni."
The Gurmukh Family Bursary in Law* will be awarded to a Black, Indigenous or racialized student in Year 1 or 2 who has financial need.
The bursary is supported by Sunil Gurmukh, counsel at the Ontario Human Rights Commission, and an Adjunct Research Professor at Western Law who's partnered with the Law school to conduct research on racial profiling by police across Canada.
"My dad, Gary Gurmukh, and I chose to create the Gurmukh Family Bursary in Law to address systemic racism and the under-representation of Black and Indigenous people in law school and the legal profession," said Sunil Gurmukh. "The legal profession must better reflect the communities it serves. We hope the bursary will make a difference and other alumni will follow suit." 
The Violet King Award was named for the first Black woman to practice law in Canada. Ms. King shattered glass ceilings and broke down colour barriers to pave the way for future generations. The Award will be given to a Black student in first year at Western Law.
Lera Nwineh and Rivannah Brown of the Black Law Students Association (BLSA) at Western Law named the award.
"It's great to see the Western community taking steps that reflect its acclaimed collegial atmosphere," said Rivannah Brown. "Scholarships are an important step towards removing systemic barriers in the legal profession faced by Black students. The Violet King Award signifies that Western Law is committed to nurturing an environment inclusive of all students by recognizing racial stratification in our legal education system."
"We're proud to partner with Western and the BLSA on this award. This scholarship represents a much-needed step in making Western Law a more inclusive and diverse space," said Corum Van Esch.
Benjamin Reingold added, "We know there's still significant work to be done and are committed to doing what we can to address the underrepresentation of Black students applying to and graduating from Western Law."
In addition to the new entrance awards, Western Law now offers an application support package for Black students, which includes vouchers for a professional LSAT preparation course, as well as a waiver of the application fees to Western Law and the Ontario Law School Application Service.
Western Law has also established an Anti-Racism Working Group, comprised of JD and graduate law students, faculty, and staff, which will develop short and longer-term strategies for issues like diversity in student and faculty recruitment, curriculum options, and student supports.
"As lawyers and educators, we need to encourage more open and critical dialogue on the important role of legal education in tackling racism in Canada," Chamberlain said
"Much important work remains ahead of us, and our conversations need to involve a wide-range of diverse perspectives, including voices that have not always been prominent at Western Law," she added.
*Pending approval of the University Senate and Board of Governors