PhD student awarded top academic medal
PhD student awarded top academic medal
October 10, 2019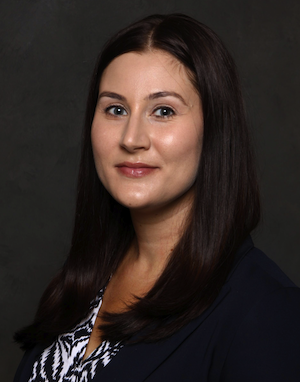 For more than 125 years, the Governor General's Academic Gold Medals have recognized the outstanding scholastic achievements of students in Canada. Kirsten Stefanik, Western Law's first PhD graduate, is among the recipients of this year's honour.
A previous recipient of a Governor General's Gold Medal for her LLM thesis at Western Law, Stefanik has done innovative work on international humanitarian law (IHL) — the law governing the methods and means of warfare.
Her PhD work, which was supervised by Professor Valerie Oosterveld, investigated how IHL can be deployed to better protect civilians who find themselves enmeshed in civil wars.
She undertook field research in two African countries – the Democratic Republic of the Congo and Sierra Leone – both of which have suffered brutal civil wars in recent years, in order to better understand the thought processes of former combatants and the acts they directed toward civilians.
This research inspired her focus on how combatants' thought processes change to view civilians as less-than-human. Currently, when organizations such as the International Committee of the Red Cross work with combatants to promote compliance with IHL, they first need to 'rehumanize' the civilians in the eyes of the combatants. As Stefanik points out, this is very difficult. She therefore proposes new IHL rules that seek to prevent the dehumanization of civilians by combatants.
"Kirsten's thesis is an innovative application of social psychology and criminology that deals with a hugely important issue at the leading edge of international humanitarian law," said Oosterveld. "Her approach could substantially change the way new rules of IHL are conceived."
Stefanik says she's honoured to receive the award and grateful to Professor Valerie Oosterveld for "supporting and challenging me throughout my degree and helping me produce a thesis worthy of this recognition."
She adds, "most of all I owe an immense amount of gratitude to the former combatants and victims of conflict I spoke to in Sierra Leone and the Democratic Republic of Congo. My thesis is merely the beginning of my attempts to repay the debt I owe them by drawing attention to armed conflicts."
Stefanik is currently a Visiting Ianni Fellow at the University of Windsor's Faculty of Law, where she is teaching courses on Constitutional Law, Access to Justice, and International Humanitarian Law.
"I'm excited to be taking what I've learned here to inspire law students and to continue my work developing new and creative ways of regulating combatants and protecting civilians in conflict-affected countries," she said.