New Review Counsel joins CLS
New Review Counsel joins CLS
April 16, 2019
Community Legal Services (CLS) and Western Law are delighted to announce that Ian Dantzer LLB'80 has joined CLS as the housing, employment and human rights Review Counsel effective March 1st, 2019.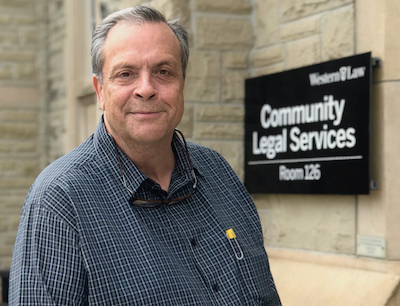 In this role, Dantzer (pictured left), will supervise law students providing legal services and assistance to low-income persons in need of representation before the Landlord & Tenant Board, Employment Standards, Small Claims Court and the Human Rights Commission.
A well-known and respected member of the London bar, Dantzer was a partner in civil and commercial litigation at Lerner's LLP for more than thirty years and was the firm's Managing Partner for eight years. His practice included health law matters, commercial disputes, personal injury and real estate litigation.
"We're so pleased such an outstanding and experienced litigator like Ian has joined CLS," says CLS Director Doug Ferguson. "His judgment and insights will greatly benefit our students and clients."
Dantzer, a graduate of Western Law from the Class of 1980, has an admirable record of public service and volunteerism in a wide array of London charities and non-profits.
"I'm thrilled to be a part of CLS and eager to mentor our law students and help better prepare them for careers in the legal profession," says Dantzer. 
The Review Council position is supported by funding from Legal Aid Ontario, The Law Foundation, and students of Western and Fanshawe College.