Book celebrates the scholarship of Gerald Fridman
Book celebrates the scholarship of Gerald Fridman
October 01, 2019
The late Professor Gerald Fridman was one of Canada's most respected and influential legal scholars, and now a newly published book celebrates his many contributions to the study of private law.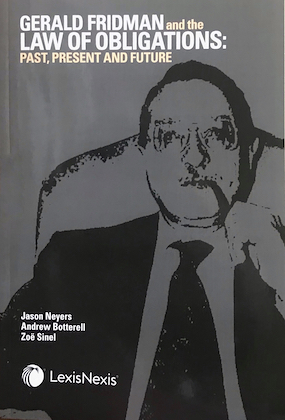 Gerald Fridman and the Law of Obligations: Past, Present and Future (LexisNexis),is edited by Western Law professors Jason Neyers, Andrew Botterell and Zoë Sinel, and includes a foreword by Supreme Court of Canada Justice Russell Brown.
The collection includes 16 papers touching on virtually every aspect of Professor Fridman's academic work.
The papers stem from an international symposium hosted by Western Law in 2018 that brought together world-renowned scholars and judges to explore the extensive impact of Fridman's work on three core areas of private law: contracts, tort, and unjust enrichment.
Among the papers are entries by former Western Law Professors Bruce Feldthusen and Mitchell McInnes, and by current Western Law PhD candidate Jonathan de Vries.
Fridman, who died in November 2017 at the age of 89, was associated with Western Law for 40-plus years. He was a prolific author of numerous legal texts and more than 100 articles, major papers, case notes, and book reviews. His work has been cited in more than 50 decisions of the Supreme Court of Canada and in hundreds of lower-court decisions.
"We're delighted to publish this collection of essays from so many leading academics and practioners in honour of Gerald. Their contributions are a fitting tribute to a remarkable scholar," Neyers said.