January Term brings international view to classroom
January Term brings international view to classroom
January 10, 2018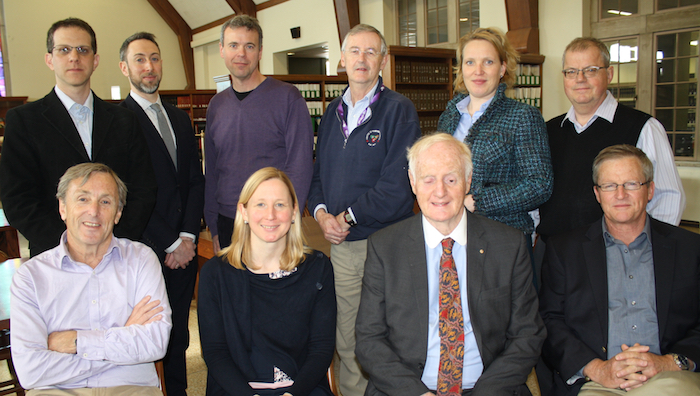 (Pictured clockwise: Paul Rishworth, Martin Petrin, Ryan Liss, Chris Sherrin, Ian Scott, Annika Wolf, Ben Hovius, David Grinlinton, Ron McCallum, Erika Chamberlain)
The January Term is a highlight of the academic year at Western Law; it's when the school welcomes an impressive group of visiting professors and practitioners from around the globe.
The term provides students with the opportunity to study a subject in a three-week intensive course setting from professors who bring an international perspective to the classroom.
"The January Term allows students to learn about an amazing variety of topics from a diverse group of widely-respected scholars and experts in their fields," says Associate Dean Christopher Sherrin. "It's such a valuable component of our educational program and quite special to Western Law. We're always excited to have this opportunity to bring the world to Western."
This year's visiting faculty will teach an array of unique courses including: Comparative and Offshore Trust Law and Practice; History and Theory of International Criminal Jurisdiction; Police Accountability and the Law; and Litigating Life, Liberty and Security of the Person.
The school also offers internships at places such as Equity and Human Rights Services at Western and the Ontario Court of Justice.
The 2018 January Term visitors are:
Elliott Gold and Mark Sajewycz (Ridout & Maybee LLP); David Grinlinton (University of Auckland), Stephen Dattels Visiting Fellow in Mining and Finance Law; Adam Hofri-Winogradow (Hebrew University of Jerusalem); Ben Hovius, James G. McLeod Professorship in Family Law; Ryan Liss (Yale University); Wendi Locke and Ryan Hornby (McCarthy Tétrault); Ron McCallum (University of Sydney), Hicks Morley Professor in International Labour Law; Martin Petrin (University College London), Richard H. McLaren Visiting Professor in Business Law; Louise Reilly (Dublin); Paul Rishworth (University of Auckland); Ian Scott; and Annika Wolf (Frankfurt), Catalyst Capital Fellow in Insolvency Law.