Alumni lauded at awards ceremony
Alumni lauded at awards ceremony
November 26, 2018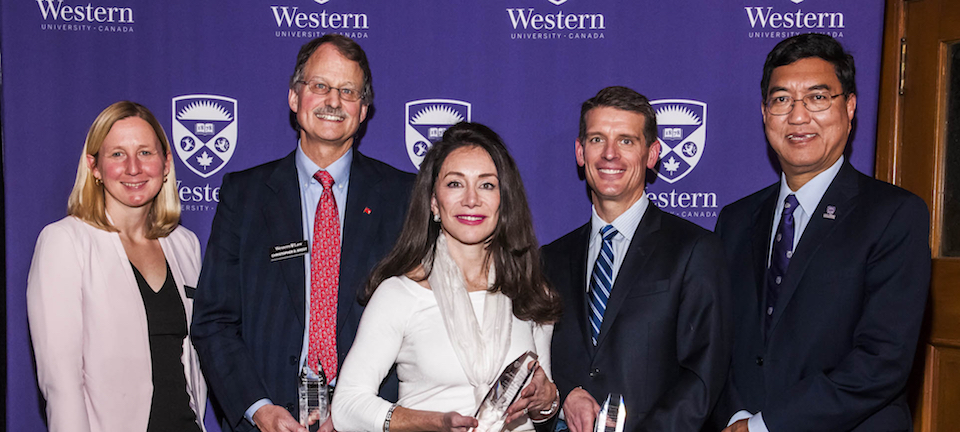 The 2018 alumni awards of distinction, held November 20 in Toronto, honoured three of Western Law's finest. Christopher Bredt, LLB'79,  Michael Copeland, LLB'93, MBA'99 and Dale Ponder, Class of 1980, were celebrated for their accomplishments in the fields of community service, business leadership, and contributions to the Western Law community.
Western President Amit Chakma welcomed the guests and congratulated the three honourees. "You are all wonderful representatives of Western Law and we are all very proud of what you have achieved."
He acknowledged some of the past award recipients who were in attendance: Warren Bongard LLB'91, Jay Carfagnini LLB'80 and Professor Richard McLaren LLB'71, and thanked Geoff Beattie, LLB'84, for his leadership of Western's Be Extraordinary Campaign, which raised a record-breaking $805 million.
"The campaign has helped Western increase support for students, attract the world's top talent to help build on nationally and internationally recognized research strengths, increase international opportunities for students and build world-class facilities," Chakma said.
Erika Chamberlain, Dean of Western Law, acknowledged the support and commitment of the school's alumni and friends.
"You are vital to maintaining the school's outstanding reputation, and we truly appreciate your expertise, passion, time and generous financial support," she said. "Thanks to many of you, we have raised more than $27 million in support of such critical initiatives as student financial aid, and two fully endowed faculty Chairs."
Alex Colangelo, LLB'01, a member of the school's Law alumni association, presented the 2018 Alumni Awards of Distinction.
"All three of our award winners have had singularly impressive career paths and their achievements and accomplishments tell the story of what makes Western Law so special," he noted. "They've trailblazed on Bay Street, championed for global literacy, and led the resurgence of a great sports team and league. They've made major contributions in their fields and we're so proud that each of their extraordinary journeys began at Western Law."
The Community Service Award, recognizing alumni who have made outstanding contributions to local, national or international communities, was presented to Christopher Bredt, senior litigation partner at Borden Ladner Gervais LLP.
Through his tireless and dedicated volunteer work with the Canadian Organization for Development through Education (CODE), Bredt has been a champion for women's and children's literacy in Africa, the Caribbean and among Canada's First Nations communities. 
Bredt has been an integral part of the CODE organization for more than two decades, and has scaled Mt. Kilamanjaro four times to raise funds. To date the "Summit for Literacy" has raised more than $2 million.
Bredt acknowledge the tremendous work CODE does, and said when he visits countries that have benefitted from the organization "it is so inspiring and gratifying to know it has made such a positive a difference."
Michael Copeland, LLB'93, MBA'99, received the W. Iain Scott award for Business Leadership, which recognizes significant and sustained achievements in business, and is named after Western Law's former Dean, W. Iain Scott.
Copeland brought his bold vision and effective business leadership approach to senior roles with the Canadian Football League and Toronto Argonauts. He oversaw $2 billion in new stadium development and led the CFL expansion process, including the addition of the Ottawa franchise in 2014 and as President of the Toronto Argonauts helped the team reach success as 2017 Grey Cup Champions. His most recent leadership role was with Maple Leaf Sports & Entertainment, where he led a comprehensive digital fan engagement strategy.
"His talented leadership skills serve as a positive source of inspiration and motivation to students and alumni alike," said Colangelo as he presented the award.
"Law school provided me with the foundation for everything I've been fortunate enough to experience and achieve in my career," said Copeland, and he thanked Professor Richard McLaren for being an ongoing mentor.
The 2018 Ivan Rand Alumni Award honouree was Dale Ponder LLB'80. This distinction recognizes superior contributions to both the Law School and to the alumni community.
"Dale Ponder has had a storied career on Bay Street," Colangelo said. "She's been a true role model for the Canadian legal community and an inspiration to a new generation of lawyers."
As co-chair of Osler LLP, and in her top leadership roles at the firm, Ponder has led some of the country's most innovative mergers and acquisitions. She's been lauded with a very impressive list of awards over the course of her distinguished career and still has found the time to give back to her alma mater. She's been a distinguished speaker at Western Law, teaches the Business Law Capstone course, and is a member of the Dean's Circle, a distinguished group of supporters.
On receiving her award, Ponder said it gave her an opportunity to reflect on her time at law school and expressed gratitude to Western Law for introducing her to "terrific professors and colleagues."
 "I'm motivated by the challenge of learning and they taught me to reach for higher and better," she said. "It's a lesson that has carried on with me for life and I continue to learn from my students at Western Law."
The "Mac Graham Trio," comprised of Western Law graduate Randy McAuley, JD'15, Mark McAuley JD'18, and Western alumnus Michael Ross, provided the stellar musical entertainment for the evening.
Western Law would like to acknowledge and thank the event's sponsors for their generous support; Purple sponsor, Osler LLP and the Silver Sponsors BLG LLP and ZSA Legal Recruitment.