The Kawaskimhon Moot promotes Indigenous legal principles
The Kawaskimhon Moot promotes Indigenous legal principles
March 14, 2017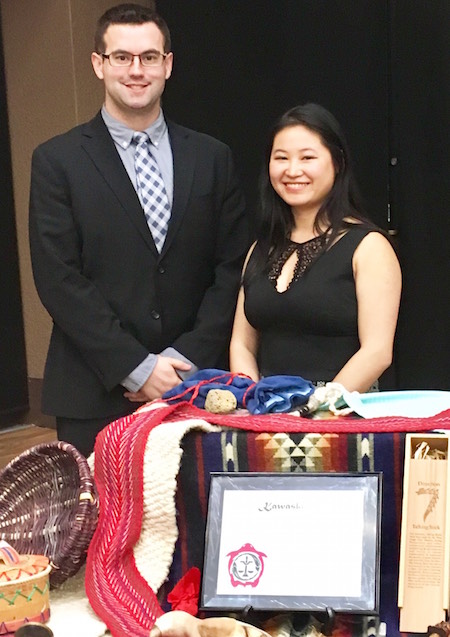 Seventeen law schools from across Canada participated in the 2017 Kawaskimhon National Aboriginal Moot at the University of Calgary Law School from March 9-12.
The Kawaskimhon Moot, also referred to as The Talking Circle Moot, is unique among moot court competitions in that it's conducted in accordance with Aboriginal customs of peaceful negotiation and consensus-building rather than adversarial competition.
The Kawaskimhon encourages students to bring their unique personal perspectives to bear on a collective problem affecting Aboriginal peoples and to work toward a mutual consensus.
For Western Law students Blake Hamm and Grace Zhang (pictured left) it was a unique opportunity for an immersive, intersectional experience.
For the moot, the students assumed the role of Mi'kmaq and Maliseet First Nations of New Brunswick, and advocated for their traditional values in a complex, multi-party negotiation on pipeline construction. After researching and preparing their position, they spent a weekend negotiating in a traditional Talking Circle, guided by Elders.
"Although challenging and exhausting, the Talking Circle was a deeply fulfilling and enriching experience, as it forced all students involved to consider the viewpoints of Indigenous and non-Indigenous people across Canada," said Hamm.
For Grace Zhang it was her first time participating in a multi-party negotiation experience.  She was interested to see how the talking circle participants represented their clients on sensitive issues. 
"They took into account the values, practices and laws of Indigenous and Canadian dispute resolution systems while negotiating in an open and respectful way," she said.  "The Elder who facilitated the talking circle shared his personal experiences, which grounded our discussions about cultural values with respect to the land and the environment."
Western Law was part of the only table out of the entire moot able to reach an agreement with the other parties.
Professor Michael Coyle, the moot supervisor, said the Kawaskimon is unique among Canadian law school experiences in that it requires students to think about how Canadian laws and Indigenous legal principles can work together to help solve important issues facing the country.
"I was delighted to see that Grace and Blake represented the voice of their indigenous clients with such effectiveness and sensitivity," he said. "I think the moot experience was profound and rewarding for all the students participating."
"I would like to thank Mi'kmaq elder and traditional chief Stephen Augustine for reviewing our students' submissions to ensure they fully reflected Mi'kmaq teachings," Coyle said.
The 2018 Kawaskimhon National Aboriginal Moot will be held at the McGill Faculty of Law.