Sport law internships champion experiential learning
Sport law internships champion experiential learning
February 23, 2017
There is no question Western Law has the bases covered when it comes to outstanding sports law education.
Students can take courses such as Law and Sport, taught by world-renowned sport law expert Professor Richard McLaren, and serve in the Sport Solution Clinic, assisting Canada's National Team and Olympic athletes with the resolution of team selection and other disputes.
Another big draw for many students applying to Western Law is the International Summer Law Internship Program, or ISLIP, which allows students to develop their professional talents in extraordinary summer placements in Canada and abroad.
This program, founded in 2006, offers students a unique immersive experience, including in the area of sports law.
Western Law student Blake Hamm's passion for sport took him to the Basketball Arbitral Tribunal in Munich, Germany during the summer of 2016, where he was able to work with some of Europe's most distinguished sports lawyers.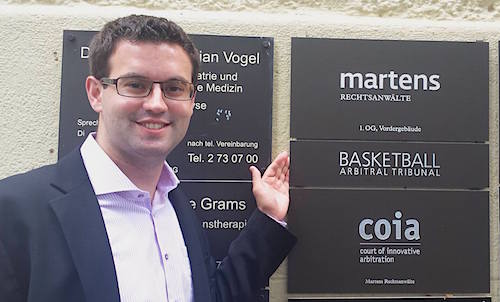 Hamm (pictured left) conducted research on sport law, contract law and international arbitration, learning about dispute resolution within the International Basketball Federation (FIBA).
"It was fascinating to see how sports law exceeds the boundaries of location and how the use of technology in such a global industry so easily brings together negotiating parties, lawyers and arbitrators from across continents," said Hamm.
While there, he reflected on Professor McLaren's insights and said they helped him recognize the depth of law in sport.
"Beyond salary negotiations and contract terms, Professor McLaren enlightened us on the complexity of sport law, beginning in amateur sport, to Olympic team selection and ensuring athletes receive full procedural rights," he said.
Hamm says his summer placement helped confirm that he could turn his enthusiasm for sport into a legal career, instead of relegating it to a pastime. "The experience made me understand how critical it is to be an advocate for athletes."
He credits the ISLIP program for its well-rounded academic and career-building aspects, which helped him to recognize his own resourcefulness.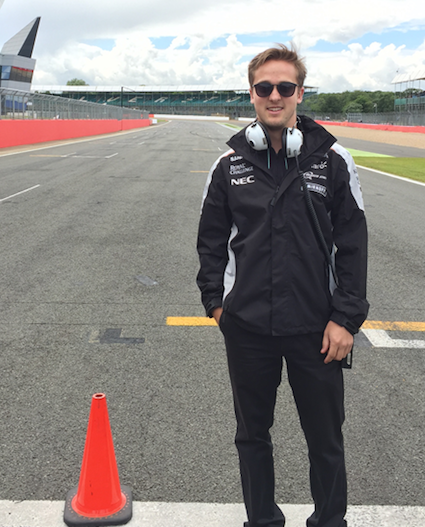 "Participating in ISLIP helped me to secure articles after graduation, so ultimately my decision to attend Western Law gave me a great boost to start my fledging career," he said.
Western Law student Justin Black (pictured left) had the opportunity to intern with a Formula One auto racing team at Sahara Force India in Silverstone in the UK.
During the placement, Black was impressed to see his contributions both respected and implemented, as he assisted the team's lawyer, Western Law alumna Leslie Ross, LL.B. '88, in developing sponsorship agreements and negotiating contracts. Seeing results and the impact of his efforts gave him enormous satisfaction. Black said being open-minded about the opportunity strongly enhanced his time there, allowing him to participate in other exciting moments with the team.
"Helping the team achieve the success that they did in the 2016 season was a very rewarding experience," Black noted.
He cherished the mentorship he received during his time at Sahara Force India as well as the important inclusion he was offered, in even the busiest and most unexpected of times.
His involvement in the ISLIP program helped him to confirm his career in law and showed him how to bridge law with sport.
"It allowed me to more clearly understand the connection to business law as well, and helped to refine my focus on corporate and commercial law classes upon return to school," he said.
Black said he initially chose Western Law because of the ISLIP program along with the faculty's reputation in sport and business. He reflects on his training abroad as a "real-world example of Western's coursework that is constantly developing."
"Mobilizing traditional learning into action is a core value at Western Law," said Valerie Oosterveld, Associate Dean. "The ISLIP program is a key investment in the students, to prepare them for future success."