New grant to explore ethics of pharmacists in retail stores
New grant to explore ethics of pharmacists in retail stores
October 23, 2017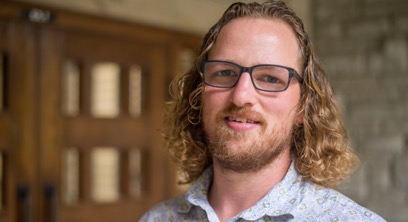 Professor Jacob Shelley has received a Canadian Institutes of Health Research (CIHR) grant to examine the ethical dilemmas of pharmacists who sell products that may be considered unhealthy.
Shelley, who holds a joint appointment in the Faculty of Law and the School of Health Studies (Faculty of Health Sciences), will lead the two-year, $99,150 grant alongside co-principal investigator, Leia Minaker of the University of Waterloo.
"The collaboration of Professors Shelley and Minaker demonstrates the importance of interdisciplinary research in the field of health policy, and I'm excited about our growing strength in this critical area," said Erika Chamberlain, Dean of Western Law.
Their multi-disciplinary research team will study community pharmacists' perceptions of factors that drive front-of-store (non-drug) sales in light of ethical and legal frameworks.
"Community pharmacists are highly accessible, well-trusted sources of health information," explains Shelley. "so their retail product offerings may implicitly suggest approval by a health care professional."
The researchers will focus on eight "problem products" including e-cigarettes, weight loss products, and energy drinks − the sale of which could be considered inconsistent with the professional responsibilities of pharmacists, just as cigarettes were seen several years ago.
"A majority of provinces banned tobacco sales in pharmacies due to their incompatibility with pharmacists as trusted health professionals," says Shelley.
The researchers are particularly interested in exploring pharmacists' perspectives on the overlaps, tension and/or ethical conflicts between their roles as health care providers and as retailers.
"It's a growing issue as revenues are decreasing from drug sales and increasing from front-of-store sales," Shelley says.
In Phase 1 of the project, the research team will examine the current legal and regulatory frameworks within which community pharmacies operate.
In the second phase they will conduct interviews with pharmacists to explore if there is tension between how they handle decision-making for front-of-store retail products, and how they see their roles in health promotion and disease prevention.
Lastly they will explore current policies and provide policy options for facilitating healthy retail environments in pharmacies. Findings will be shared with community pharmacists, provincial regulatory authorities and the pharmacy industry.
"We hope this research will help to determine ways that community pharmacies can support health promotion efforts in Canada," says Shelley.