Jessup Moot team soars to top 4 in world
Jessup Moot team soars to top 4 in world
April 19, 2017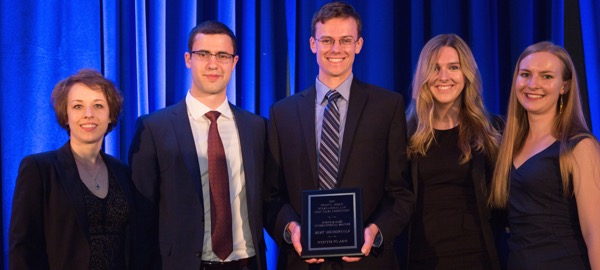 They came. They prepared. They presented their cases, and took Western Law to new heights internationally.
Western Law's moot team of Hannah Allen, David Chapman, Nathalie Gondek, Laura Lepine and Andrew Locatelli, along with student coach Sean Lewis, placed in the top four teams in the world at the International Rounds of the Philip C. Jessup International Law Moot Court Competition held in Washington, D.C. from April 9-15.
"The Washington judges were thoroughly impressed with the team's preparation, poise, and outstanding depth of knowledge. The team incorporated judges' feedback, developed new strategies on the fly, and were able to defeat very talented teams from around the world," said Lewis. "It was an exciting experience and a pleasure working with such a great team"
It was the best showing of any Western Law team since the school began competing 42 years ago.
The Jessup is the world's largest moot competition. 640 law schools from 95 countries participated in this year's competition with 129 of those teams advancing to represent their country at the White & Case International Rounds of the Jessup Competition.
The International Rounds began with strong preliminary round performances by our team, which then progressed to the Advanced Rounds (top 32 teams in the world), Octofinal Rounds (top 16), Quarterfinal Rounds (top 8 teams) and Semifinal Rounds (top 4 teams).
The Semifinal round featured Australia (University of Sydney) v Canada (Western Law). Western Law lost this closely-fought match, and University of Sydney advanced to the championship round (against Jamaica) and ultimately won the world Jessup title.
At the International Rounds gala, Western Law was awarded the Fourth Place Overall Team Award and Ninth Place Overall Combined Memorials (i.e. facta) Award. As well, David Chapman won 13th Place Overall Oralist and Nathalie Gondek won 24th Place Overall Oralist, out of 516 competitors.
The Jessup is the oldest moot court competition dedicated to international law and is based on a dispute between fictional countries before the International Court of Justice.
"I'm extremely proud of Western Law's Jessup Team", said faculty coach and Associate Dean Valerie Oosterveld. "They're talented and dedicated students, who demonstrated that they can compete with the very best mooters in the world."