Induction ceremony welcomes class of 2020
Induction ceremony welcomes class of 2020
September 06, 2017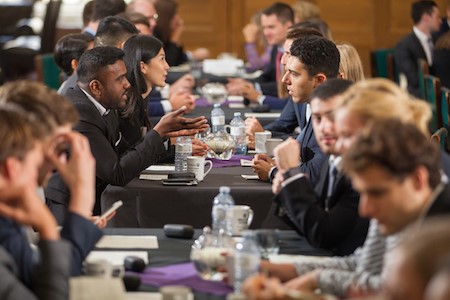 Western Law officially welcomed the Class of 2020 with a formal Induction Ceremony held at Western University's Great Hall on September 5.
The ceremony marks a significant milestone in the professional and academic lives of the students, and creates a greater awareness of the privileges and duties that being a lawyer entails.
"One of the reasons we instituted this induction ceremony last year is because we want students to recognize the privileges and the responsibilities that go along with that profession, and to recognize what an honour it is to call yourself a lawyer," said Dean Erika Chamberlain.
She told the new JD students "It will be your job, as future lawyers, to ensure that the principles of justice do not get lost amidst popular opinion, political pressure, or media representations. We will help you to build that professional identity, so that when you enter practice, you will have the courage to defend the values that inspired you to apply to law school in the first place."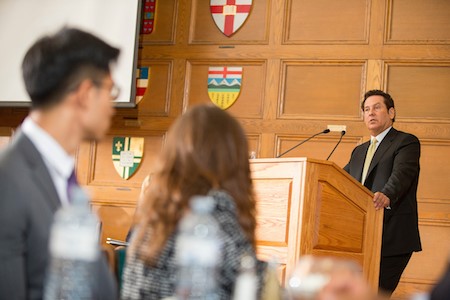 Dale Lastman, Chair of Goodmans LLP and Director of Maple Leaf Sports & Entertainment Ltd., delivered an inspirational keynote address.
"Getting a job may be the destination; but it's the journey that is so much more richly rewarding," he said. "Embrace the idea that if you make the journey more interesting, more stimulating, and more thoughtful …you'll be ready for any destination."
He encouraged the students to "Surround yourself with the most diverse range of perspectives, opinions, knowledge, and information that you possibly can and cherish the differences that surround us."
Michael Lerner LLB'72, a Bencher, brought greetings from the Law Society of Upper Canada.
"More than any other profession, lawyers contribute more to their communities whether it be by doing pro bono work or sitting on the boards of charitable or not for profit organizations," he said. "It's an expectation that you will give more than you will ever take back. You will be constantly asked for your opinion and good counsel."
Associate Dean Chris Sherrin told the incoming students their class was a varied and impressive one.
"Among you are Canadian Forces members, research assistants, a videographer, varsity athletes, accomplished musicians, a Registered Nurse, government interns, a choreographer, a Disney Princess character for birthday parties and a pending Guinness Book of World Record holder for being able to sing 100 national anthems from memory."
He also noted the many organizations for which the students volunteer.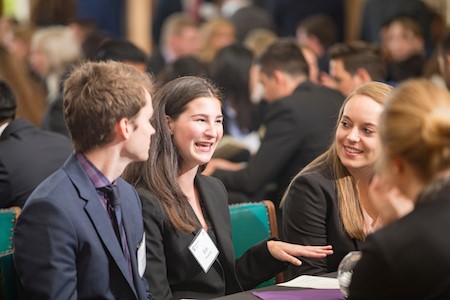 The students affirmed their commitment to professionalism at law school by reciting the following pledge, which brings together aspects of Western University's mission statement, the Code of Student Conduct, and the Barrister's Oath of the Law Society of Upper Canada:
"I accept the privilege and responsibility of becoming a law student at Western University.  I support an environment conducive to the intellectual and personal growth of all who study, work, and live here.
 I pledge, to the best of my ability and judgment, to conduct myself with honesty, integrity and civility.  I will strive to use my education and leadership ability to serve the public good, and I will hold myself to the high standards that are expected of persons who will one day enter the legal profession."