Indigenous law camp imparts valuable lessons
Indigenous law camp imparts valuable lessons
March 29, 2017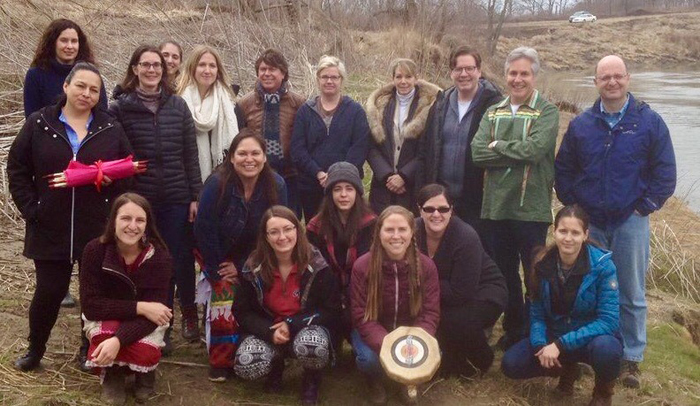 Members of Western's Faculty of Law had the unique opportunity to learn first-hand about Indigenous law thanks to the Anishinaabe Law Camp held March 23-26. 
The four-day camp took place on the territory of Deshkan Ziibing, at the Chippewas of the Thames First Nation, and was organized by the Chippewas of the Thames First Nation, along with Western's Faculty of Law and the Western Indigenous Interdisciplinary Development Initiative.
The Camp attracted students and scholars from many disciplines, and considered the continuing and rich role of Indigenous law and teachings in the life of Canada's Indigenous Peoples.
Western Law faculty Mysty Clapton, Chi Carmody, Michael Coyle, Kate Glover, Sam Trosow and Wade Wright participated in the camp alongside law students.
University of Victoria professors John Borrows and Heidi Stark and articling student Lindsay Borrows facilitated discussions on Canadian and Indigenous law and constitutionalism, immersing participants in the camp in Anishinaabe law and teachings as the reference point.
Participants learned how the land, and treaties, case-stories, values and deliberative practices all play a part in the development, interpretation and practice of Anishinaabe law. They experienced teachings and ceremonies involving fire, tobacco, wood, sage, water and singing (with drum accompaniment), and listened to stories that carried important insights about Anishinaabe law.
First-year law student Leaelle Derynck summarized what the experience meant for her.
"The Canadian legal tradition is only one story, and that story is based on a particular set of values and history," she said. "I think it's our duty within law, and as treaty partners, to learn more about Indigenous legal traditions, and that cannot cannot be done without community engagement and land-based learning. It's our responsibility within the legal profession to be conscientious of our privilege."
"I would highly recommend this camp as a holistic path to learning and understanding indigenous law," said third-year law student Yulia Rodionova. "We participated in vivid discussions and learned about the meaning of treaties made between the Crown and First Nations. These four days could not have been better spent."
The Anishinaabe Law Camp was made possible thanks to the warm welcome and active participation of the members of the Chippewas of the Thames First Nation. Brenda Young, the Community Justice Director at the First Nation and the Law Foundation of Ontario Community Leadership in Justice Fellow at Western's Faculty of Law, played a particularly important role in helping to organize and facilitate the camp.
"I hope that this camp becomes a regular event, as part of our continued efforts to build valuable connections with the Chippewas of the Thames First Nation and other Indigenous communities," said Professor Michael Coyle.