Gerald Fridman, 89, an influential scholar
Gerald Fridman, 89, an influential scholar
November 27, 2017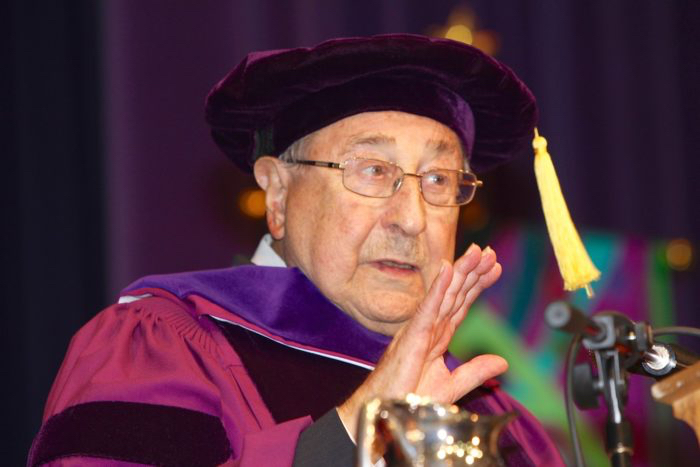 Western Law mourns the loss of Gerald Fridman, Professor Emeritus and private law scholar, who died on November 24, 2017 at age 89.
Fridman joined Western's Faculty of Law in 1975 and became a Professor Emeritus in 1994. He continued his scholarship and maintained an office at the school, where he was a regular collegial presence and an active member of the Tort Law Research Group.
In recognition of his extraordinary legal career, in June 2016 Western University conferred an honorary Doctor of Civil Law upon Fridman.
A highly accomplished scholar, Fridman was one of Canada's most prolific authors of legal texts, articles and case notes.
His writing on Canadian private law influenced generations of scholars, students, lawyers, law reformers and judges. His work has been cited in more than 50 decisions of the Supreme Court of Canada and in hundreds of lower court decisions.
"There are very few scholars who have had such a broad and longstanding impact on private law in Canada," remarked Dean Erika Chamberlain, who was a co-author on the most recent edition of Fridman's The Law of Torts in Canada (2010). "He will be dearly missed at Western Law."
Fridman studied law at St. John's College in Oxford, and earned a BA, BCL and MA from the University of Oxford. He received his Master of Laws from the University of Adelaide in South Australia.
A Fellow of the Royal Society of Canada, he was an Ontario Queen's Counsel and Counsel at the London, Ont. law firm Cohen Highley.
Details of funeral service can be found here:
http://yourlifemoments.ca/sitepages/obituary.asp?oid=1052825