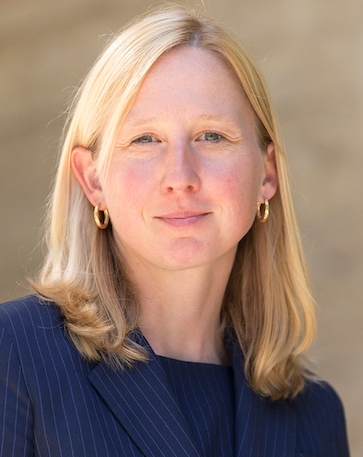 Erika Chamberlain has been appointed to a five-year term as Dean of Law, beginning May 1, 2017. She will replace Iain Scott, whose term ends this year.
Scott noted he was delighted to learn of Chamberlain's appointment and said he will be working closely with her to ensure a smooth transition.
"I was so pleased to learn that Erika had been selected as she will make an outstanding dean," Scott said, adding Chamberlain has played a key role in ensuring the success of the Law faculty.
Chamberlain steps into her new position having served as the faculty's Associate Dean (Academic) for the past five years. Among her many accomplishments in that role, Chamberlain helped develop the faculty's strategic plan and led the quality assurance process review and the external accreditation of the JD program. She also led planning and implementation of extensive curriculum reform, including restructuring of the former "January Term" and oversaw the entry of the faculty's first-ever PhD class (2014).
In addition to her extensive administrative experience in Law, Chamberlain has also served on many internal university governance committees and has represented Western on several external committees.
Chamberlain joined Western as a professor in 2005, after being called to the Ontario bar and clerking on the Supreme Court of Canada in 2002. She came to Western as a National Scholar in 1996 and graduated with her LLB as a Gold Medalist from Western Law in 2001. She earned her PhD from the University of Cambridge (2009), where she held a Cambridge Commonwealth Scholarship and the WM Tapp Studentship in Law.
As a member of faculty, Chamberlain has received a number of teaching awards, and has twice received the J. McLeod Professor of the Year Award from the Student Legal Society. As a scholar, she is recognized for her expertise in two diverse fields: tort law and impaired driving law. She is co-author of a leading tort law treatise and a nationally adopted textbook, and is considered one of the foremost authorities on the tort of misfeasance in public office. Her work in impaired driving law has been cited by provincial courts of appeal and the Supreme Court of Canada.
"The decanal selection committee's recommendation to appoint Dr. Chamberlain as Dean of Law has my wholehearted support," said Western President Amit Chakma. "Erika has demonstrated her exceptional leadership abilities and commitment to Western Law over the course of her entire academic career, and I know she will help the faculty continue building on its reputation as Canada's premiere business law school."