Celebrating the class of 2017
Celebrating the class of 2017
June 21, 2017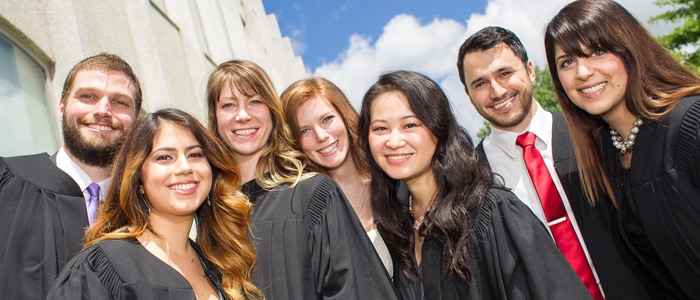 It was a great day of celebration for the Class of 2017, their family and friends. Dean Erika Chamberlain welcomed the grads and their guests to the Western Law awards ceremony held on June 21 and congratulated the class on their hard-earned accomplishment.
She reminded them that their legal education will provide a solid foundation for their future success and that a positive professional reputation will be earned through words and actions.
"You are entering the profession at a time of rapid and ongoing change, and you are well-equipped to embrace it. You have received an excellent legal education – now you need to put it into practice as lawyers, and more importantly, as professionals. So be humble, be gracious, be compassionate, be curious, and be excited about all that you can contribute to society," she said.
In her keynote address, Shelby Austin LLB'05 inspired the grads with lessons learned from her career. Austin became a partner at Davies LLP before founding her own company, ATD Legal Services, which specialized in outsourcing legal work; she then sold that company to Deloitte, where she now leads the Strategic Analysis & Modelling Practice.
She encouraged the grads to embrace the changing nature of legal practice and seize the opportunity to innovate.
"We are in a legal world that is changing faster than ever before," she said. "We should not see this new dynamic as limiting but rather as presenting each of you with more options."
She shared three stories from her entrepreneurial career and told the class, "In this ever changing legal market resilience may be the single most important skill one can develop.
"Find joy in your work and keep getting up when you falter," she said. "You need to be unconventional in a world that is vested in the status quo."
Rob Landry,  LLB'94 President of the University of Western Ontario Law Alumni Association, told the Class of 2017 the importance of keeping the connections they made at Western Law alive.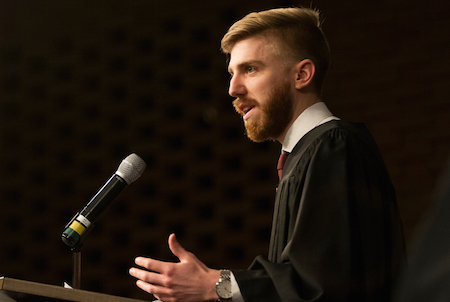 "Those friendships you made will, in many cases, be life-long. I encourage you to maintain those connections – embrace and nurture them – as you will be able to share your experiences and knowledge, and lean on each other on the road ahead."
In his entertaining valedictory address, Sean Lewis JD'17 (pictured left) praised his classmates for being such a respectful, supportive and accomplished group of students.
"When we look back at this graduating class here today, I am confident we will see great things and outstanding accomplishments. And we will be impressed; we will be thrilled; we will be excited for our friends; and we will be proud," he said.
"But we will not be surprised by the achievements and the accolades because we saw our classmates do great things here. We won't be surprised by the impactful legacy we will have left on our professions because we lived it here first," said Lewis.