Western Law brings home Hicks Cup
Western Law brings home Hicks Cup
April 11, 2016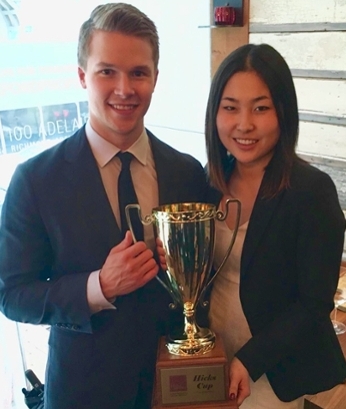 The team of Michael Barrett and Jessica He are the winners of the 2016 Hicks Morley Cup. The annual provincial labour law moot competition was held in Toronto on April 1 and is sponsored by Hicks Morley LLP, Canada's largest labour law boutique firm.
The moot provides an opportunity for students from Ontario law schools to litigate current legal issues of significance in the areas of human resources law and administrative law.
This year, teams from 5 law schools from across Ontario competed before panels of judges drawn from the firm.
Competing against teams from Queen's, Windsor, Osgoode Hall and Ottawa, Jessica and Michael argued the management side on two issues  - "just cause", and the appropriate standard of review for labour arbitration decisions - that were derived from Wilson v. Atomic Energy of Canada Inc., a federal jurisdiction dismissal case recently argued before the Supreme Court of Canada.
"Jessica and Michael both delivered an outstanding performance during their preliminary round, and repeated this advocacy excellence in the finals against one of the Queen's teams," says Prof. Michael Lynk. "We are very proud of their accomplishment." 
As a result of Barrett's and He's victory, Western Law can send two teams to compete for the Hicks Cup next year.