Students meet with Justices from Ontario's highest court
Students meet with Justices from Ontario's highest court
October 27, 2016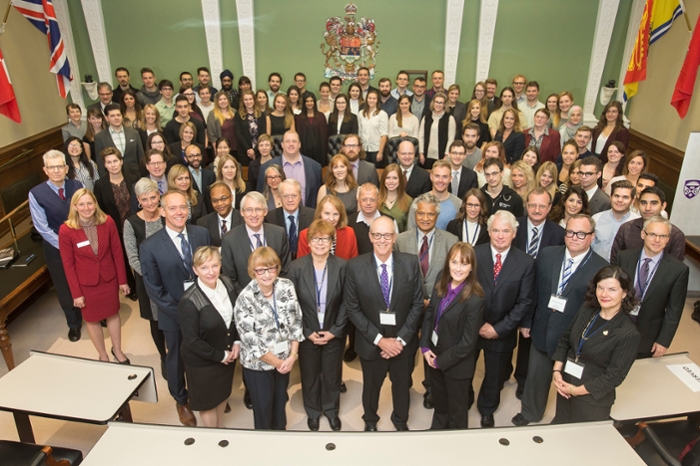 Western Law students had a rare opportunity to meet and interact directly with the judges of Ontario's highest court when seventeen justices from the Court of Appeal for Ontario visited the law school on October 19 as part of the Court's outreach program.
It was a homecoming for Justices Grant Huscroft and Bradley Miller, former professors at Western Law who were appointed to the bench in 2015, and for Justice Eileen Gillese, former Dean of Western Law.
The justices were given a warm welcome in the standing-room-only Moot Court Room with remarks from Western's Provost and Vice-President (Academic), Dr Janice Deakin, and Associate Dean Erika Chamberlain. Chamberlain told the students, "This is your chance to learn directly from the bench about what they find persuasive, and how they go about making their decisions. You won't often have this opportunity to get an insider's perspective."
Justices Juriansz, Sharpe, and van Rensburg participated in Family Law, Environmental Law and Small Group classes. And an Access to Justice session at the School's Community Legal Services Clinic, with Chief Justice Strathy and Justices Simmons, Rouleau and Tulloch provided first-hand accounts of the challenges facing the court system. Chief Justice Strathy told the students, "'Access to Justice' are just words; what you do here at the Clinic gives real meaning to the term. "
Students also attended sessions with Justices Hoy, Hourigan, Lauwers and Miller on the judicial decision-making process. And with Justices Brown, Gillese, Huscroft, Pardu and Roberts on written and oral advocacy.
"It was a privilege to receive first hand advice on effective advocacy skills from five justices of Ontario's Court of Appeal," said third-year law student Ashley Taborda, who attended the advocacy session.
"Topics ranged from principles of statutory interpretation, to things that counsel continuously do that never fail to irritate them, so it was a valuable learning experience."
At the session, Justice Roberts emphasized the importance of communication skills for any good lawyer, saying, "what we need from counsel is clarity and synthesis - lawyers should give context and a human face to every case."
Justice Huscroft suggested that excellent advocacy is not about prepared arguments, but that real advocacy is how one responds to questions from the Bench. He advised students not to try to get back to scripted arguments after questions, but to "roll with the punches."
The clerkship "fireside chat" session with Justice Gillese and Justice Tulloch was a popular draw with the discussion ranging from the benefits of judicial clerkships to advice for preparing clerkship applications.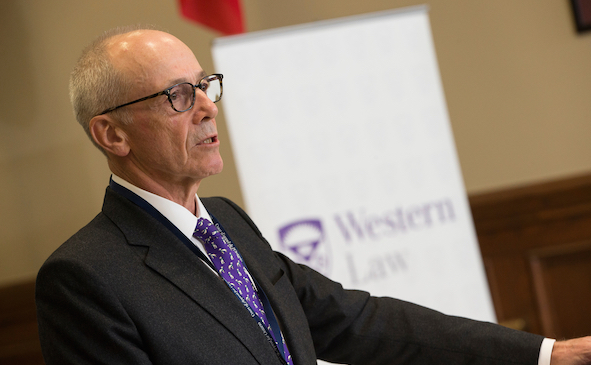 The visit to Western Law was part of the Court of Appeal's outreach visit to London, during which they met with the trials judges from the Superior Court of Justice and the Ontario Court of Justice and with lawyers from the region. In addition to these meetings, Judges from the Court of Appeal also visited the St. Thomas Courthouse, Neighbourhood Legal Services, and the Elgin Middlesex Detention Centre.
"We sit in Toronto, but we are a court for all of Ontario," said Chief Justice George Strathy (pictured). "So it's important for us to visit with legal communities across the province and discuss the issues being faced in these communities.
"I'm impressed with the enthusiasm and engagement of Western Law students. It gives me optimism for the future of the legal profession," he said.
The Court of Appeal for Ontario is Canada's busiest appellate Court. As the appeal court for the country's most populous province, it adjudicates approximately one-third of the total number of cases heard by all of Canada's provincial appeal courts combined.
It hears civil, criminal and family law appeals from the Ontario Court of Justice and the Superior Court of Justice. It also hears a small but significant number of appeals from the Ontario Review Board.
View photos of visit on Western Law's Facebook page