Revised January courses hone new skills
Revised January courses hone new skills
January 05, 2016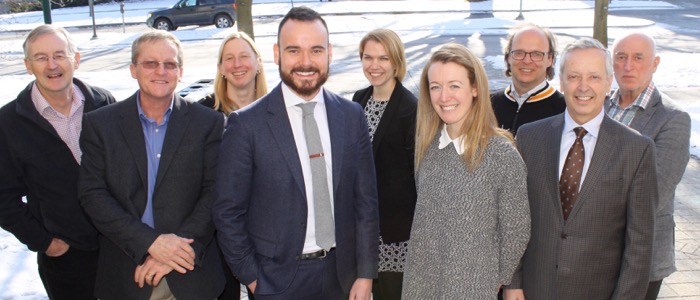 From l-r Ian Scott, David Grinlinton, Erika Chamberlain, Kyle Kirkup, Anna Lund, Louise Reilly, Kris Gledhill, James O'Reilly and Gordon Anderson
Students will gain more opportunities to put their skills into action thanks to a revised January term. The new January Intensive period showcases leading academics, arbitrators and judges teaching an array of courses, a number of which focus on international, cross-border or comparative law.
The January period also features two new externships, one in Family Law, taught by Jennifer Foster, and one in Higher Education Law, which will allow students to work on-site with lawyers and related professionals, taught by Western's Legal Counsel Steve Jarrett. Western Law has also added two new external moots: Class Actions and Family Law Negotiation.
"The redesigned January intensive period is meant to maximize student engagement," said Erika Chamberlain, Associate Dean (Academic). "Whether through advocacy, case studies, simulations or externships, it's a great opportunity to hone new skills."
As an example, Professor Kris Gledhill's course in International Human Rights Litigation will require students to act as either advocates or adjudicators in international human rights disputes, learning to develop litigation strategies and workable human rights standards.
Students will also research real-life situations involving possible human rights violations to draft submissions to international human rights bodies, so that their academic work can be put to practical use.
"We view the January Intensive courses as an opportunity for students to become more engaged in their learning, to learn and practice new skills, and to work collaboratively with others," added Chamberlain.
The visiting professors and their courses are: Gordon Anderson, Hicks Morley Professor in International Labour Law (International & Comparative Labour Law); Kris Gledhill, John Turner Fellow in Public Law (International Human Rights Litigation); David Grinlinton, Stephen Dattels January Term Fellow in Mining Law and Finance (Comparative Mining & Energy Law); Kyle Kirkup (Current Issues in Advanced Constitutional Law); Anna Lund (Cross-Border & International Insolvency Law); Justice James O'Reilly (Judging); Louise Reilly (International Arbitration Law and Practice); Ian Scott (Police Accountability and the Law); and Brian Graves and Wendi Locke (Securities Law - Concepts & Practice).