New initiatives brings wellness to the forefront
New initiatives brings wellness to the forefront
November 03, 2016
Western Law has launched a number of new initiatives dealing with student wellness to heighten awareness about the impact of mental health on law students and those in the legal profession.
Students were offered workshops on wellness issues as part of orientation week in September. Erika Chamberlain, Associate Dean (Academic), spoke to students about aspects of the law school experience that can affect their mental health, including workload, competition, high-stakes examinations, and feelings of inferiority. She then discussed healthy ways of coping with stress and anxiety in law school.
Chamberlain also highlighted some concerning statistics to illustrate the impact of mental health on the legal profession.
For example, lawyers rank 5th (out of 105 occupations) in terms of the overall prevalence of depression, and approximately 20% of the legal profession suffers from clinically significant levels of substance abuse, depression, anxiety, or some other form of psychopathology. This not only hurts lawyers and those around them, but also affects their ability to properly serve their clients.
Students learned about the various resources available to them at Western Law, on campus, and in the community. They also heard from Doron Gold of the Law Society's Member Assistance Program (MAP), which is available to all lawyers, paralegals, law students, and judges in Ontario, as well as their family members. It is a fully confidential service funded by the Law Society of Upper Canada.
MAP provides access to counselling, coaching, online resources and peer volunteers. Members can get professional help with issues related to addictions, mental or physical health, work-life balance, career, family and more.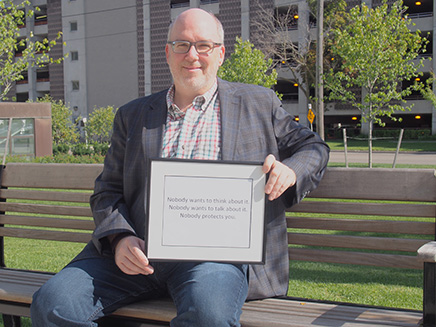 Also as part of first-year orientation, Western Law Professor Tom Telfer (pictured) presented "Mental Health, Stigma and Breaking the Silence" and shared his personal journey of his struggles with depression. Telfer volunteers as a mental health advocate and has joined St. Joseph's Zero Suicide Implementation Advisory Committee in order to support it from an outpatient perspective. 
"Zero Suicide is exactly the starting point we need for a discussion about suicide," says Thomas. "It's putting proper support in place for people who are struggling, and to provide them with the help and protection they so desperately need."
Telfer's powerful story was recently featured in an article published by St. Joseph's Healthcare Foundation. It can be read here. https://www.sjhcfoundation.org/nobody-wants-talk-about-it
Self-reports of depression and anxiety are significantly higher among law students than among either the general population or medical students (who have similar stress levels and workloads).
Up to 40% of law students may experience depression or other symptoms as a result of the law school experience.
Western Law's Wellness Committee provides support and resources to students to protect and improve their physical and mental well-being. The group encourages open discussions and dialogue around mental health, physical fitness, and overall wellness.
"As wellness becomes an increasingly relevant matter for the legal profession, we want to ensure that budding lawyers have the support and assistance that they need early on in their careers," says Nick Avis, Co-Chair of the Wellness Committee.
Some of the initiatives of the committee include yoga, jogging, cooking classes, and therapy dogs at exam time. The Wellness Committee is also partnering with Western Law to bring in a mindfulness instructor on November 17 and again in December.
The Committee aims to have fifteen activities throughout both semesters and, in second semester, a "Wellness Week" will include guest speakers, a mindfulness session, a running group and a peer support dialogue.
"Mental and physical well-being is a serious concern for members of the legal profession, so our goal is to equip law students with tools and experiences that they can carry forward into their careers," says Avis.  
"The stigma of talking about mental health is dissolving, and there are now more resources on campus for students to reach out to," he says.  "Although more remains to be done, we are happy to have been one of many groups to have brought wellness to the forefront."