Internship with indigenous communities "eye-opening experience"
Internship with indigenous communities "eye-opening experience"
October 07, 2016
This past summer, two Western Law students gained valuable insight into access to justice while working with indigenous organizations in Ontario.
The students, Grace Zhang and Rachel Phillips, participated in the Debwewin Summer Law Program which is funded jointly by the Ministry of the Attorney General's Aboriginal Justice Division and by Western Law.
The Program, which was created in response to Justice Iacobucci's 2013 First Nations Representation on Ontario Juries Report, sends law students from Ontario on summer internships and supports them in providing community education and legal assistance to indigenous communities. This was the first time Western Law had participated in the Program.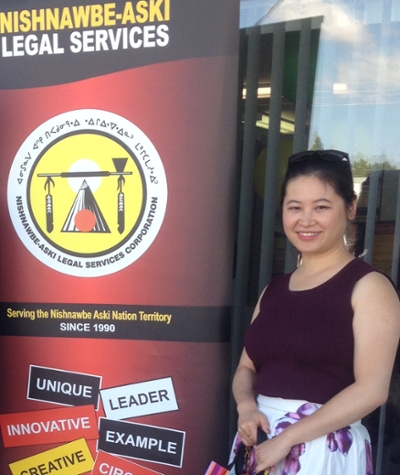 Zhang (left) interned with the Tyendinaga Justice Circle near Belleville. She also had the opportunity to travel to a remote First Nations community in Wabaseemoong, and saw first-hand the difficult living conditions in the north of the province.
Zhang mainly worked with youth involved in the criminal justice system. She found that many were struggling as a result of Fetal Alcohol Syndrome, and addictions leading to substance abuse.
"Many of the youth had been moved many times through different group homes and had been cut off from their cultural identity as First Nations youth," said Zhang.
She had the opportunity to be involved in diversion activities (i.e. diversion from the criminal justice system) and Justice Circles. She also worked to create a Court Worker position to provide indigenous youth with a central contact to help them access aboriginal justice and related services.
Zhang created a series of podcasts about the experiences of indigenous youth in the criminal justice system, and organized public legal education nights on family, criminal and small claims law, legal aid and juries.
"I was able to see how we can use our legal education to work toward addressing systemic issues that First Nations individuals face, which was a very valuable experience."
Phillips (right) undertook her Debwewin internship at the Timmins office of the Nishnawbe-Aski Legal Services Corporation, focusing on criminal and family law. She also travelled to other areas of Northern Ontario, including Kapuskasing and Cochrane.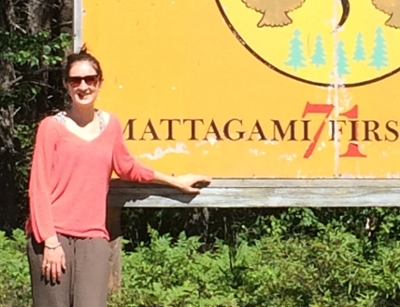 She spent much of her time in court, attending first appearances in criminal court, youth justice court and bail court with the office's community legal worker, to keep records of the progress of their clients' cases, to assist indigenous accused navigate the process and to conduct interviews to complete Legal Aid Ontario applications. 
Phillips participated in Talking Circles for family and child protection cases and Restorative Justice Circles for criminal cases as well as producing resource materials on a variety of family and criminal law topics, including jury selection, child protection cases and the Child and Family Services Act, the stages of a criminal trial and common terminology in criminal and family law.
She also conducted research on alternative sentencing and restorative justice for indigenous offenders, and organized and held workshops for the community.
Phillips said participating in the Debwewin Summer Law Program was an eye-opening experience.
"I saw first hand how geography, access to resources and education, and a history of trauma and oppression, all contribute to the overrepresentation of indigenous people in the criminal justice system," she said.  
"Witnessing these realities has given me a sense of responsibility to pursue a career that allows me to address them."
Associate Dean Valerie Oosterveld added: "This experience was extremely valuable to our students and helped to implement the recommendations in Justice Iacobucci's Report. We are looking forward to continuing our partnership with the Ministry of the Attorney General on the Debwewin Summer Law Program."