Induction ceremony welcomes class of 2019
Induction ceremony welcomes class of 2019
September 06, 2016
Western Law held an Induction Ceremony on September 6 to officially welcome the Class of 2019 to the law school and to the legal profession. This ceremony, the first of its kind in Ontario, was introduced to mark this significant milestone in the academic and professional lives of law students, and to instil in them a greater awareness of the privileges and duties that being a lawyer entails.
Madam Justice Eileen Gillese, of the Court of Appeal for Ontario and former Dean of Western Law, delivered the keynote address.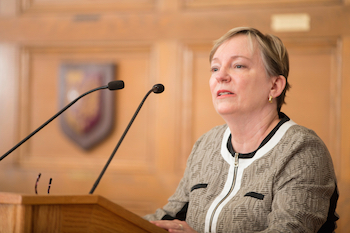 "Being a member of the legal profession is not synonymous with being a lawyer," she told the first-year law students. "A lawyer is a person with specialized knowledge and skills, attained through long, intensive academic preparation.  When we speak of being a member of the legal profession, the requisite knowledge and skills are assumed, and the focus shifts to the conduct and qualities that characterize those within the legal profession."
Erika Chamberlain, Associate Dean (Academic), encouraged students to view the development of their professional identities as a critical part of their legal education, and to never forget the ideals that inspired them to apply to law school.
Michael Lerner LLB'72, a Bencher, brought greetings from the Law Society of Upper Canada. He reminded the new students to take full advantage of all the opportunities law school offers. "Gain clinical experience, participate in moots and volunteer," he said. "This is an exciting time in your life, so have fun, but remember to commit yourself to balance and look out for each other."
The students were invited to affirm their commitment to professionalism at law school by reciting the following pledge, which brings together aspects of Western University's mission statement, the Code of Student Conduct, and the Barrister's Oath of the Law Society of Upper Canada:
 I accept the privilege and responsibility of becoming a law student at Western University.  I support an environment conducive to the intellectual and personal growth of all who study, work, and live here.
 I pledge, to the best of my ability and judgment, to conduct myself with honesty, integrity and civility.  I will strive to use my education and leadership ability to serve the public good, and I will hold myself to the high standards that are expected of persons who will one day enter the legal profession.     
 Justice Gillese remarked to students that the pledge "is your public acknowledgment that law school, as the first step to becoming a member of the legal profession, demands more than academics – it demands conduct that accords with the standards and ideals which form the very foundation of the legal profession."
 "The ceremony emphasized, from day one, the importance of personal responsibility and the impact of one's reputation," said first-year student Shane Freedman (pictured left). "It was a meaningful way to start my law school journey."