Graduate students present research to Chief Justice
Graduate students present research to Chief Justice
April 25, 2016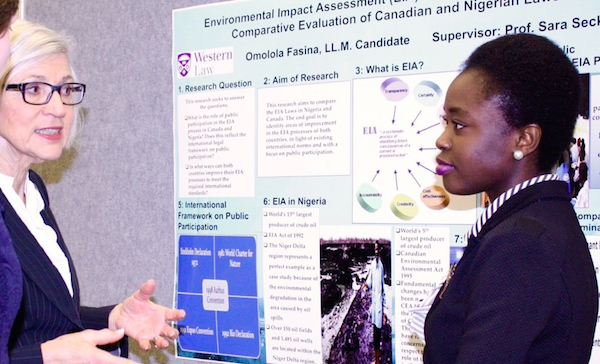 Five Western Law graduate students had the unique experience of presenting their research to the Chief Justice of Canada, Beverley McLachlin, while she was visiting Western Law on March 31 to present the Pensa Lecture in Human Rights.
LLM Candidate Omolola Fasina (pictured above) spoke to the Chief Justice about her research on the importance of environmental impact assessments as a tool to prevent environmental degradation.
"I was elated that she was conversant with the damage caused in the Niger Delta region in Nigeria due to oil spillage," said Fasina. "I was able to describe to the Chief Justice the challenges posed by corruption within environmental impact assessments."
Another LLM candidate, Maia Abbas (pictured below), is researching the duty of accommodation in Canadian human rights law.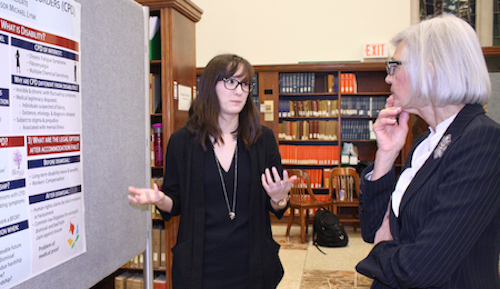 "The Chief Justice is well aware of the difficulties of accommodating complex disabilities, says Abbas. "She encouraged me in my endeavor to identify the specific obstacles associated with accommodating chronic pain disorders." 
Two of the students, Darinka Tomic (MSL) and Lisa Macklem (PhD program) are researching intellectual property law.
Macklem briefly discussed with Justice McLachlin how her Pensa lecture, which focused on the challenges and rewards of Canada's diverse population, is reflected in her own research about fostering diverse cultural voices in the digital age.
 "The Supreme Court of Canada has set a high bar for access to information and culture in its support of fair dealing," says Macklem. 
Darinka Tomic was able to discuss her research, which asks whether a more equitable future balance can be struck between the human right to food and intellectual property rights, particularly in the international trade arena.
"I couldn't have received better encouragement to pursue my research," says Tomic.
PhD candidate Jenny Poon (pictured left) explained her research to the Chief Justice on the international refugee law principle of non-refoulement, which requires states to ensure that they are not sending asylum claimants back to their country of origin to face persecution.
"My presentation to the Chief Justice was an eye-opening experience," says Poon. "She urged me to continue the important work I was doing in international law."
The graduate students all agreed that visually portraying their work in poster format at the Pensa reception was a valuable knowledge-sharing exercise, made more special by the presence of Chief Justice McLachlin.