New CLS site promotes access to justice
New CLS site promotes access to justice
June 28, 2016
Community Legal Services (CLS), with a grant from Legal Aid Ontario, has opened a satellite office at the new Innovation Works building at 201 King Street in downtown London.
Innovation Works was created by Pillar Nonprofit Network and brings entrepreneurs, businesses, government, nonprofits and charities under one roof.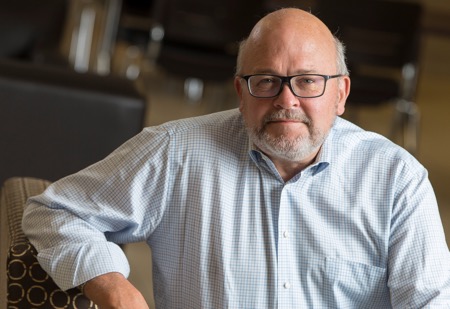 CLS Director Doug Ferguson (left) saw this as an opportunity to expand the clinic's presence in the community and to promote access to justice. He says the new office can be used in many ways and is excited about its possibilities.
"We hope to build relationships and/or partnerships with other tenants in the building to better serve our clients," Ferguson says. "The downtown location will make it easier for some of our clients to access our services and will be a great space to hold our public legal education workshops."
CLS students begin meeting new clients there in July, and a grand opening is slated for September. 
CLS provides free legal advice and representation to members of the community, and to Fanshawe College and Western students and is funded by Legal Aid Ontario, Fanshawe Student's Council, the University Students Council and Western's Faculty of Law. 
Over 200 students work in the clinic over the course of the academic year under the supervision of experienced lawyers.
Innovation Works is London's first ever co-working space designed for social innovators.
"Having this partnership reinforces the heart behind Innovation Works," says Michelle Baldwin, Executive Director of Pillar Nonprofit Network. "It fosters a collisions of ideas, with the desire to reach innovative solutions to our most persistent community challenges."