Bankruptcy book hailed as "definitive explanation"
Bankruptcy book hailed as "definitive explanation"
July 13, 2016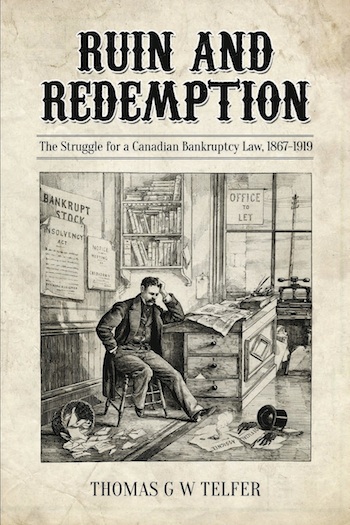 Professor Thomas Telfer's book Ruin and Redemption: A Struggle for Canadian Bankruptcy Law 1867-1919 has made a significant impact in the recording of Canadian legal history. Ruin and Redemption was published by the University of Toronto Press and the Osgoode Society for Canadian Legal History in 2014 and has received numerous positive reviews in legal and historical journals.
 "Telfer has produced the foundational study of the nascent and still enduring resolution of [the problem of insolvency] for Canada," said Charles Tabb (University of Illinois) in the Law and History Review. "[His] masterful exegesis takes us from Confederation in 1867 to the passage of the Canadian Bankruptcy Act of 1919. United States economic and political historians could profit from a close reading of Telfer's masterwork. His monumental study is the definitive explanation [of the history of Canadian Bankruptcy law.]"
Roderick J. Wood (University of Alberta) similarly praised Telfer's book in the Canadian Business Law Journal. "The phoenix-like death and regeneration of insolvency law in Canada is without doubt one of the most interesting chapters in the development of Canadian bankruptcy and insolvency law. Moreover, its reverberations are still felt to this day….Tom Telfer deserves our congratulations for shining a light on what until now was an obscure and little-known episode in our legal history."
Other reviews have appeared in the Business History Review (published for Harvard Business School); Saskatchewan Law Review; Canadian Historical Review and the Banking and Finance Law Review.
Writing in the latter, Virginia Torrie (University of Manitoba) said: "The author's attention to the social dimensions of bankruptcy debates enriches his historical narrative, and gives the twenty first-century reader an fascinating glimpse into the societal context that surrounded these debates in nineteenth and early twentieth-century Canada…. Ruin and Redemption prompts one to think broadly and deeply about bankruptcy law and policy, and its role in the socio-economic history of Canada and other countries….The result is an engaging historical account of Canadian bankruptcy law and debates".
In the Canadian Law Library Review, Justice Gilles Renaud of the Ontario Court of Justice sums up the reviews by praising Ruin and Redemption and asks when Telfer's next volume on the legal history of bankruptcy will be published. Professor Telfer is already hard at work on a study of bankruptcy and insolvency law during the Great Depression in Canada.