Awards ceremony honours Class of 2016
Awards ceremony honours Class of 2016
June 23, 2016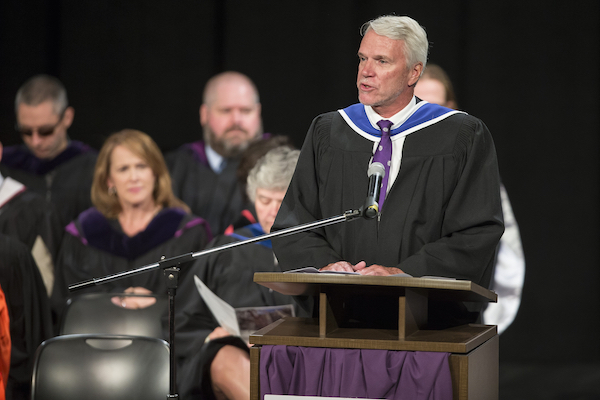 Preparation and a solid set of values are key foundations for a rewarding legal career, Janet Leiper LLB'85 told Western Law graduates at the school's annual awards ceremony held June 22.  
"It includes being dedicated to the continuous learning and humility that keeps you competent in a difficult and complex profession," she said.
Leiper, a bencher of the Law Society of Upper Canada, challenged the Class of 2016 to consider what motivates them.
"I ask you… what are you longing for and how can you express that in your work? Because you will need to be engaged in work that is meaningful to you, especially when you are tested."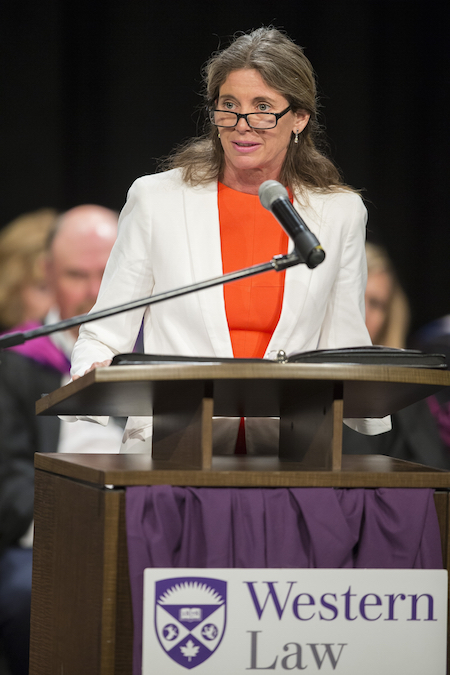 Leiper encouraged the newly-minted grads to "say yes to challenges" and to prepare for the inevitable transformations they will undergo.
She concluded with an idea from the Persian poet Rumi who wrote, "Respond to every call that excites your spirit."
In addressing the graduating class, Dean Iain Scott told them there are limitless ways to make a contribution.  "If you make time for others, you will have more than enough time for yourself and your career," he said.
"You have natural talents and of course now an excellent education. You have a responsibility to use your talents as global citizens for the greater good."
Robert Landry LLB'94 brought greetings from the school's alumni association and emphasized the importance of graduates taking "3 Cs" from their law school experiences – camaraderie, community and connectedness. 
He noted that maintaining connections with classmates and the law school provides a valuable support mechanism and helps to sustain a sense of community, regardless of where graduates pursue their careers.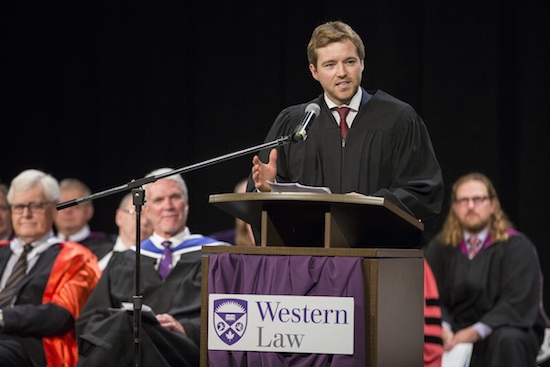 "The friendships and connections you have made will, in many cases, be life-long," he said. "I encourage you to maintain those connections – embrace and nurture them – and lean on each other on the road ahead."
The 2016 valedictorian, Scott Kerr, spoke about the positive experience of law school.
"The truth is that, over 1024 days, you make some of the best friends you'll likely ever have. You learn about the fundamental systems that make our society run and which are talked about in the news every day. And you learn about it from people who are geniuses several times over and have dedicated their lives to understanding the minutiae of this stuff and to convey that knowledge to you."
He acknowledged the role family and friends played in supporting the class of 2016. "We don't say it enough, but know that we think about you every day, and we will love you forever for holding us up."