Alumni honoured at awards ceremony
Alumni honoured at awards ceremony
November 30, 2016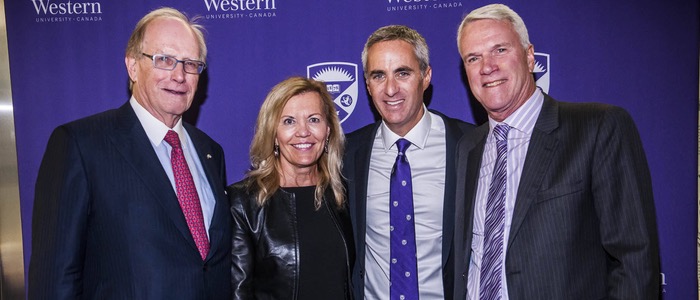 Alumni Award of Distinction recipients Richard McLaren, Christine Elliott and Warren Bongard with Dean Iain Scott.
Three of Western Law's finest were celebrated at the 2016 Alumni Awards of Distinction held at the Hockey Hall of Fame November 24. 
Christine Elliott, LLB'78, Warren Bongard, LLB'91 and Richard McLaren LLB'71 were honoured for their achievements in community service, business leadership and superior contributions to the Faculty of Law.
Dean Iain Scott welcomed the guests and thanked the alumni community for their ongoing support. "You are the backbone of Western Law and we appreciate your expertise, passion, time and generous financial support," he said. "It is because of your tremendous commitment that Western Law continues to thrive."
Robert Landry LLB'98, Chief Operating Officer at Gowling WLG and President of the Western Law Alumni Association, introduced and presented the awards.
"The achievements and accomplishments of our award recipients tells the story of what makes Western Law so special," said Landry.  "All three of our award winners have had impressive career paths which have led them to diverse and unique destinations, and each of their journeys began at Western's Faculty of Law," he said.
Christine Elliott was presented with the Community Service Award. A founding member and partner of the law firm, Flaherty Dow Elliott & McCarthy, Elliott practiced law until her election in 2006 as Member of Provincial Parliament for Whitby-Ajax. During her years at Queen's Park she was an effective and passionate advocate for those most vulnerable people in our society. A champion for persons with special needs, she is the co-founder and a Director of the Abilities Centre, a Past Chair of Grandview Children's Centre and a former Director of the Lakeridge Health Whitby Foundation.
In December 2015 she was appointed by the provincial government as the Province's first Patient Ombudsman, ensuring that patients in Ontario's health-care system will now have a strengthened voice.
Warren Bongard received the 2016 Business Leadership Award for his significant and sustained achievements in business and acting as a role model to the business community.
Bongard co-founded ZSA Legal Recruitment in 1997. As President and Co-Founder, he manages lawyer recruitment operations and focuses his practice on partner-level hires and special in-house assignments. A valued voice in the legal and business community, he is a respected commentator on the subject of legal recruitment, retention and law firm management.
He is Chair of the Entrepreneurs Organization, Toronto Chapter and was on the Board of Directors at The York School, an independent school in Toronto. He sits on the board of the University of Western Ontario Alumni Association and served as President of the University of Western Ontario Law Alumni Association. He was and continues to be an incredible champion and generous supporter of the school. 
The final presentation of the evening, the Ivan Rand Alumni Award, which recognizes superior contributions to both the Law School and to the alumni community, was given to Richard McLaren O.C., HBA'68, LLB '71. McLaren has been an influential law professor at Western for more than 30 years and a mentor to generations of students, affectionately known as "McLarenites."
He was the founder and driving force behind the Western Business Law Clinic and is a member of the Dean's Circle, a distinguished group of supporters.  He is a commercial litigator with McKenzie Lake Lawyers LLP and founder of McLaren Global Sport Solutions.
During his exceptional career he has become one of the strongest voices against corruption in international sport, and has placed his stamp on inquiries ranging from steroids in Major League Baseball to drug testing cover-ups by USA Track & Field to widespread cheating by Russian athletes.
This past January he was awarded Canada's top honour, when he was named an Officer to the Order of Canada.
Western President Amit Chakma added his congratulations to the recipients. "The Alumni of Distinction Awards honours the very best Western Law has produced," he said. He also acknowledged Dean Scott, who will be retiring in 2017, for his outstanding contributions to the law school.
"Iain has been an exceptional champion for the Faculty and we are very grateful for the many contributions he has made to the reputation of both the Faculty and the University," said Chakma.
Past recipients of the award include, Geoff Beattie, Mitch Frazer, Roberta Jamieson, Peter Aceto, Jay Carfagnini, Rosemary McCarney, Tracey Tremayne-Lloyd, Jacqueline Moss, Kim Beatty and Stephen Coxford.
The live music entertainment for the evening was provided by Mac Graham Trio, featuring current second year law student Mark McAuley and law alumnus Randy McAuley.
Many thanks to the event sponsors for their generous support:
Presenting sponsor Closing Folders; Purple sponsors; Gowlings WLG and ZSA Legal Recruitment; and Silver Sponsors Goodmans LLP and McKenzie Lake Lawyers.