Western Law professor assumes government role in Republic of Georgia
Western Law professor assumes government role in Republic of Georgia
June 09, 2015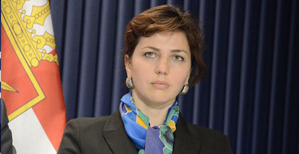 Western Law professor Anna Dolidze has been appointed Deputy Minister for Defence of the Republic of Georgia in the former Soviet Union.  
Dolidze will take a leave of absence from Western Law while she serves in this position.
Her responsibilities will primarily be in the area of human rights and will also include international relations and international law activities of the Ministry, cooperation with NATO, and the rights of veterans.
"This position provides a unique opportunity to give back to Georgia and to contribute my knowledge and experience to it becoming a prosperous, peaceful, democratic, rights and rule of law based state," says Dolidze.
"As an legal academic I am thrilled at a chance to formulate and impact public policy within a team of highly professional and dedicated colleagues."
Dolidze received her law degree cum laude from Tbilisi State University, Masters in International Law from Leiden University and a doctorate from Cornell University.
She has served at a number of international and non-governmental organizations, including Human Rights Watch, the Russian Justice Initiative, and Save the Children.
In 2004-2006 she was President of the Georgian Young Lawyers' Association, the largest legal advocacy organization in the Republic of Georgia. She also served at the National Constitutional Commission, the Commission for Human Rights in Prisons and the Expert Commission for Georgia's European Integration.
In 2012 Dolidze joined Western's Faculty of Law under the Scholars at Risk Network, an initiative that brings scholars facing severe human rights abuses in their home region to positions at universities, colleges and research centers in a safe country.
Western Law was the first faculty of law in Canada to invite and host a legal scholar through this program.