The Coxford Lecture examines the case for reparations
The Coxford Lecture examines the case for reparations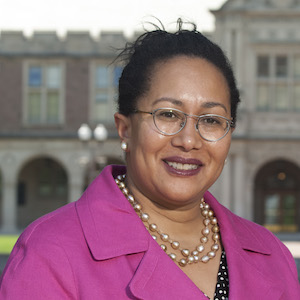 Professor Adrienne Davis, Vice-Provost and William M. Van Cleve Professor of Law Washington University in St. Louis (WUSTL), will explore the topic of reparations for slavery at the 2015 Coxford Lecture.
Her talk "The Justice and Jurisprudence of Reparations" will examine compensation for historic wrongs and contrast corrective and other forms of justice.
This free public lecture takes place on Tuesday, March 3 at 12:30 p.m. in the Faculty of Law's Moot Court Room.
"Professor Davis is an internationally acclaimed scholar who has published ground-breaking work on legal issues having to do with race, sex, and gender," says Prof. Andrew Botterell, the lecture's organizer.
"Her visit to Western Law is an exciting opportunity for members of Western's community to grapple with one of the most challenging issues in contemporary jurisprudence, namely whether the descendants of American slaves are entitled to reparations and, if so, what justifies that entitlement."
Davis, who joined the WUSTL law faculty in 2008, writes and teaches on gender and race relations; theories of justice and reparations; feminist legal theory; and law and popular culture.
She directs the Black Sexual Economies Project at the law school's Center for Interdisciplinary Study of Work and Social Capital. The group of scholars from seven U.S. research universities crafts new paradigms for thinking about race, gender and sexuality through open dialogue and papers.
Davis earned both her bachelor's degree and JD from Yale University, where she was an executive committee editor of The Yale Law Journal.
The Coxford Lecture is Western's leading public law lecture. Each year the series brings international scholars to Western Law to address important public law questions in order to promote and advance the rule of law.
Previous speakers in the Coxford series include Professor Larry Alexander (University of San Diego), Professor Jeremy Waldron (NYU/Oxford), Professor Jeffrey Goldsworthy (Monash University), former Supreme Court Justice Ian Binnie, Oxford Law Dean Timothy Endicott, and renowned legal philosopher John Finnis.
The Coxford Lecture is generously supported by Stephen Coxford LLB'77, former Chair of Western's Board of Governors. The Coxford lectures are published annually in The Canadian Journal of Law & Jurisprudence.